With its simple elegance, navy blues and whitewashed hues, you may be reluctant to say goodbye to a Cape Cod look once summer draws to a close. Not to worry, this classic beach style doesn't have to be relegated to the warmer months -- after all, New England gets its fair share of winter too. Read on to learn about the essential elements of Cape Cod style and how to emulate a nautical look in your home all year long. And if you find something you like, click through one of the links below and use the code CAPE20 to get $20 off your purchase of $100 or more!
Related: So Your Style Is: Cape Cod and the Islands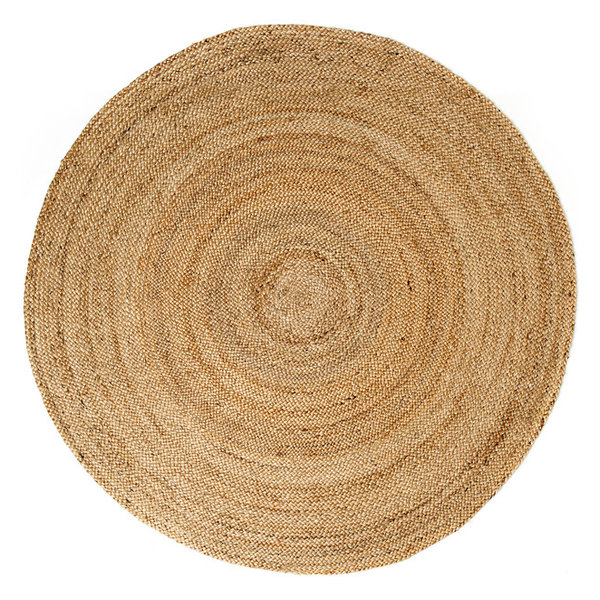 Choose Durable Jute
Create a casual, beachy entryway that will hold up through all four seasons with this jute rug. Handwoven and with an all-natural look, this four foot round rug is durable enough to hold up against muddy boots and dripping coats. And with clean floors, you'll be able to enjoy a laid-back, coastal feel even in the middle of winter.
Natural Jute Area Rug from Houzz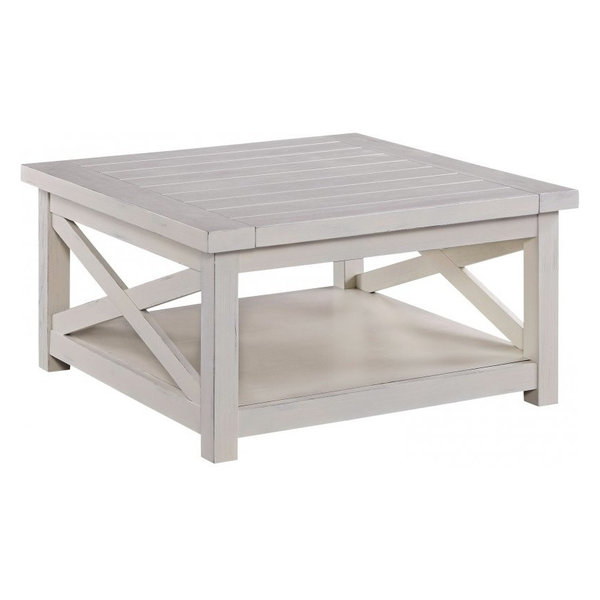 Weathered and White
Try using reclaimed, whitewashed wood throughout your home and enjoy the clean look during both golden summer days and gray winter mornings. Made of solid mahogany with a weathered white finish, this coffee table is perfect for channeling that timeless coastal look. Featuring an X-frame pattern, a planked design and a bottom shelf, it also offers plenty of space for storage and entertaining.
Hampshire Coffee Table from Houzz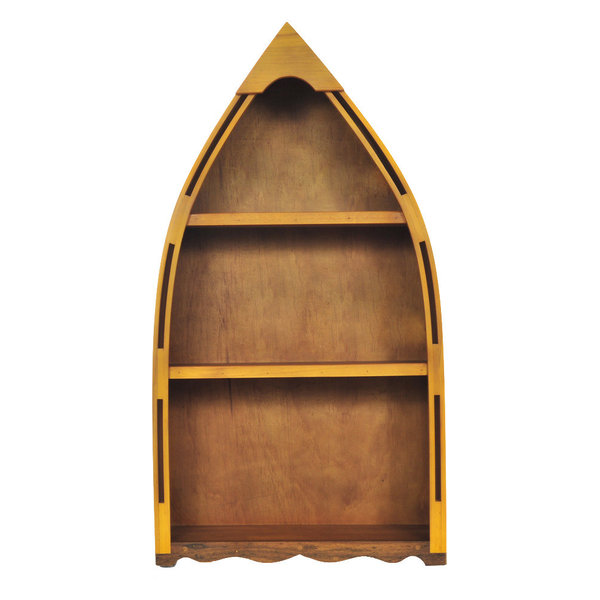 Nautical Accents
Call to mind the sea and its ships with this canoe-shaped bookshelf, perfect for displaying a collection of vases, cameras or books. Handcrafted from Canadian western red cedarwood, this shelf is strong and durable. Either hang it on the wall or put it on a desk to strike an eclectic, nautical tone in your home.
Canoe Book Shelf, Small from Houzz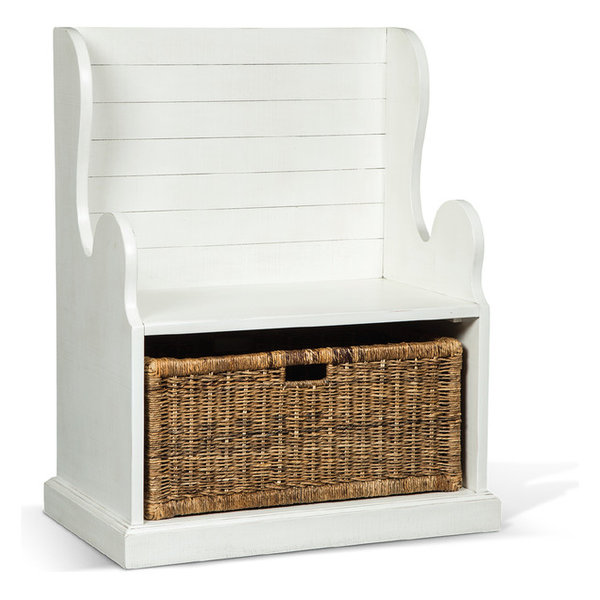 Colonial Style
To truly capture the homespun simplicity of Cape Cod style, incorporate pieces that have a colonial look, like this white hall seat. The perfect spot to put on boots and mittens, this hall seat includes a rattan basket to keep your entryway uncluttered. And with its high, straight back, slatted design and weathered finish, it also beautifully emulates a traditional aesthetic.
Manor House Hall Seat, River Birch from Houzz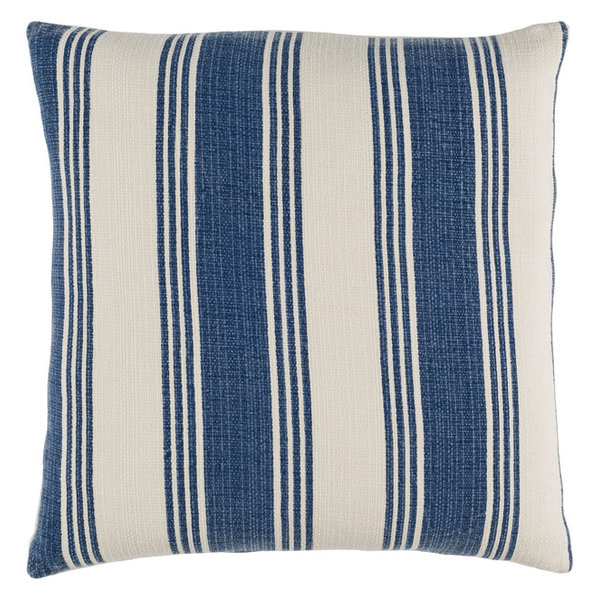 Stars and Stripes
It's hard to tire of classic stripes, and tossing this navy blue and off white pillow on the couch is an easy way to update your space. Made of woven cotton with a down fill, this luxurious throw pillow would be a perfect addition to a beach style living room. When it's time to wash up, simply remove the cover and spot clean.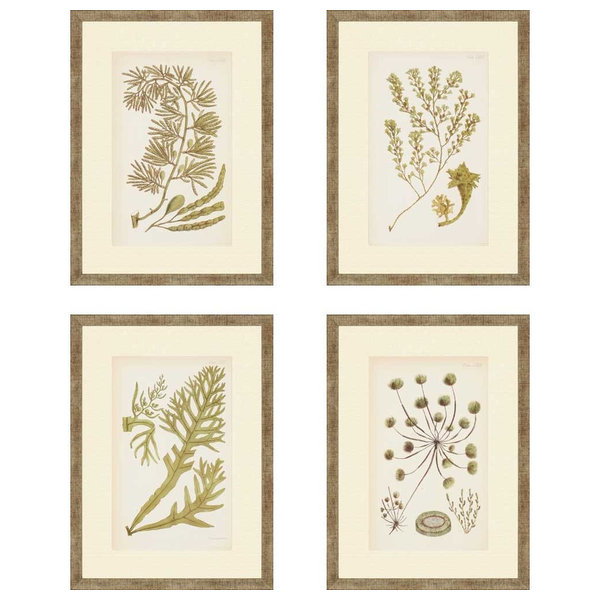 Botanical and Beachy
Display the fauna and flora of the sea on your walls with this set of four botanical portraits. Each drawing features a particular type of seaweed, bordered by a cream-colored matte and set within a simple frame. Either arrange these portraits together or spread them out around your home for a subtle beach style.
4-Piece Sea Plants Artwork Set from Houzz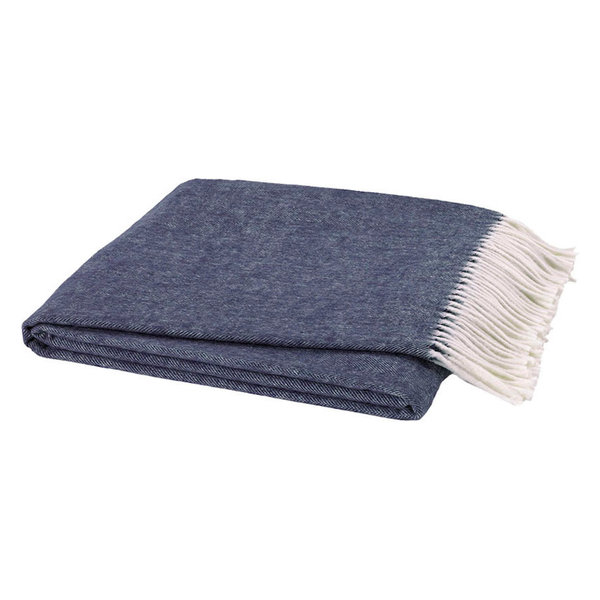 Blue and White
Try adding a textured throw blanket to your couch for summer storms and snowy winter nights alike. Made of acrylic and cotton, this deep blue herringbone throw will do just the trick, with its lightweight yet soft surface. Available in 39 different colors, the blue and white blanket would blend effortlessly with a Cape Cod style home.
Italian Herringbone Throw, Indigo from Houzz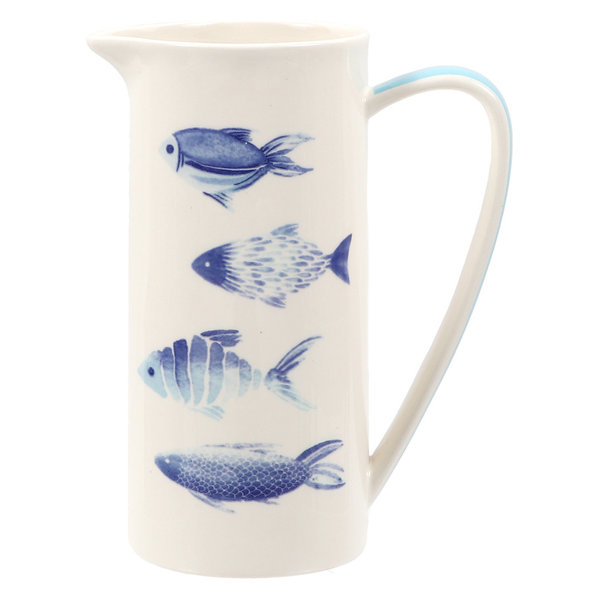 Fish Forward
Don't be afraid to play up sealife motifs when going for a Cape Cod look -- both playful and elegant, they simply work. This blue and white pitcher features a watercolor fish design for a clean, beachy feel. Serve water to your guests with it, or use it as a vase and display a bouquet of sunflowers.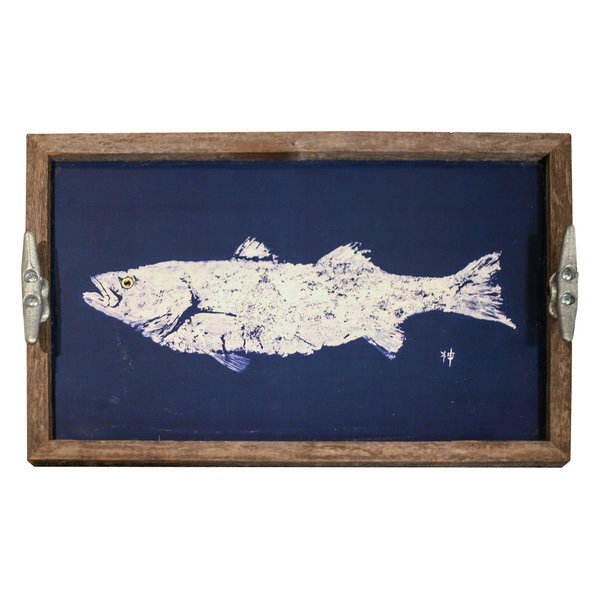 Maritime Mood
Even if it's not lobster season, you can bring a dose of nautical charm to your gatherings with this fish-themed tray. Made from a natural driftwood frame, with dock cleat handles and a white bass print, this tray is perfect for carrying drinks or appetizers to your guests. When you're not entertaining, try placing this tray on a coffee table and storing magazines and books in it.
White Striper Driftwood Tray from Houzz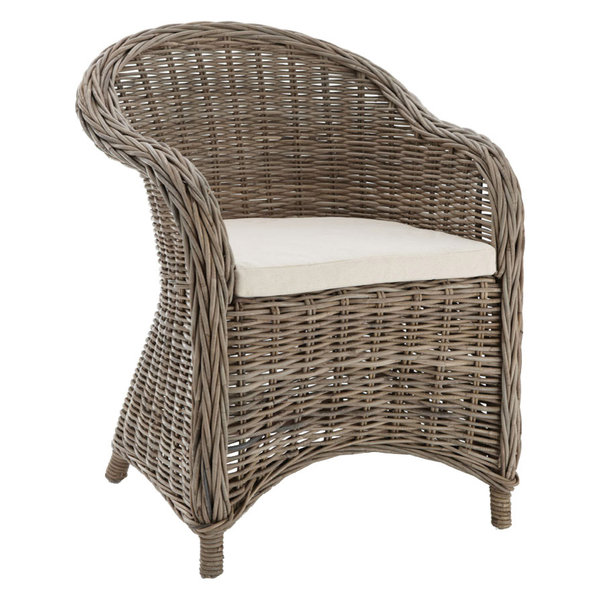 Think Wicker
Adding wicker pieces to your home will help you achieve a windswept, natural look inspired by the seashore. Simply put this gray-finished rattan chair in your living or bedroom and enjoy the rustic, beachy look. Complete with a white fabric seat cushion, all this chair needs is a throw pillow and a blanket to be the perfect perch for reading a book.