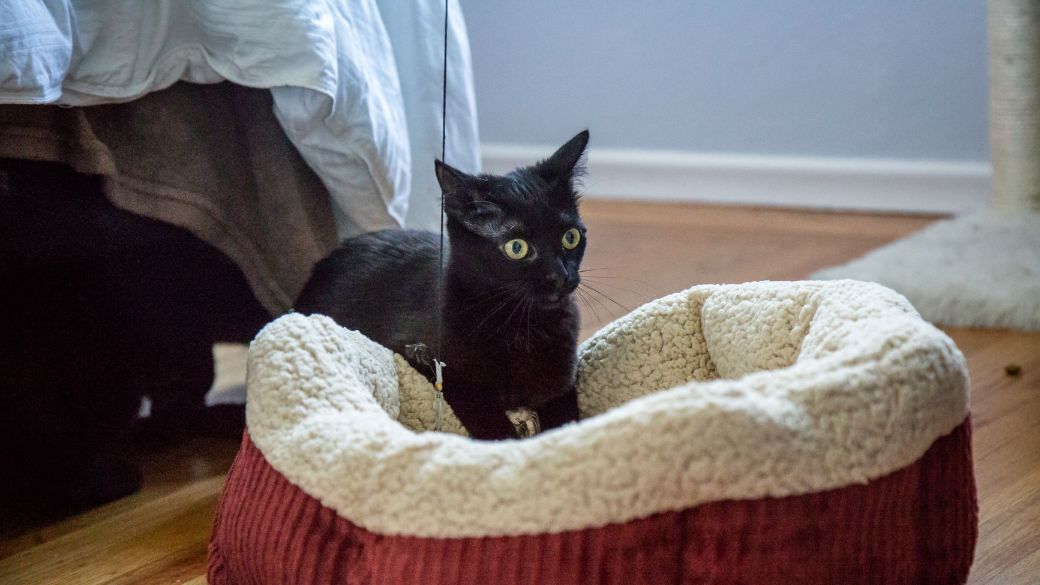 Which beds and houses will make your cat feel most comfortable?
Cats are territorial den animals that need their own spaces to feel safe. When you have a cat, it's important to provide this space and help your feline friend be comfortable at your home. 
If you have an inside cat, you may only need a bed or a cat tower for them to scratch on. However, outside cats need a sturdy, weatherproof space to hide from the elements. Providing your cat with this can help you sleep soundly, knowing it has everything it needs to feel snug.
How to pick a good cat house or bed
Outdoor or indoor: If your cat lives outside, you need to be sure the house or bed can withstand the weather. Inside cats can have softer, easy-to-wash beds and covered homes to cuddle in.
Single or multi-cat: With multiple cats, you should have multiple spaces where they can hide and command as their own. A single cat may not need as many spaces to climb and hide.
Towers or one level: An older cat may not be able to climb anymore and only need one level. Kittens and younger cats should have multiple levels so they can grow up healthy and strong.
Best cat beds 
These cat beds will have your cat feeling snug and purring in no time.
This bed is a fluffy, cozy tent perfect for your cat to snuggle in. It is soft, yet keeps its shape even after the washing machine.
Available at Amazon
Mora Pets Self-Warming Cat Bed with Removable Cover
This bed is self-heating but doesn't require batteries or a cord plug-in. Soft and lightweight, it makes a great resting place for cats and kittens of all ages.
Available at Amazon
K&H Manufacturing Kitty Sill Deluxe Bed
More than just a bed, this sits on your window sill and lets your cat look out at the trees and birds. It's easy to assemble, strong and sturdy. 
Available at Amazon
Petmate Aspen Self-Warming Bed
This is large enough for two cats and made of plush faux wool. It has a nonskid bottom to avoid sliding when your cat zooms into it for a nap. 
Available at Amazon
K&H Thermo-Snuggle Cup Bomber Heated Cat Bed
This has a 4-watt removable heater that only heats up when your cat is in the bed. It's plush and made of soft, machine-washable faux wool.  
Available at Amazon
This cat bed has a removable waterproof bottom to make it easy to wash. It gives your cat a soft, cozy place to cuddle.
Available at Amazon
Best cat houses 
If you want your cat to have more than just a bed, a cat home can make a great place to put it.
Furhome Collective Generation 2 Outdoor Insulated
This heated house can be indoors or outside. It perches on a stand to stay dry in wet weather.
Available at Amazon
Hey-Brother Outdoor Heated A-frame
This cat house is also a cat tower. It includes multiple levels, caves, hammocks and platforms for your cat to enjoy.
Available at Amazon
New Age Pet EcoFlex Cat Washroom/Night Stand Pet House
This cat house is designed for the outdoor elements. It is made from a plastic-wood polymer and not very well insulated, so you should use blankets or beds to keep your cat warm.
Available at Amazon
This house is best for indoor cats, as it has a soft floor and machine-washable covers. It can be folded easily and stored or left out for a sturdy two-level multi-cat apartment.
Available at Amazon
More than just a multi-level cat condo, this is also a massive scratcher. Your cat can be free to scratch up this cardboard hideout that includes a spring mouse toy.
Available at Amazon
Petyella Heated Outdoor Cat House
This fully heated weatherproof house sits on waterproof stilts. It includes a 13-foot extension cord with a plug-in timer.
Available at Amazon
Other top products
Other products to help your cat feel snug and comfortable:
BestReviews spends thousands of hours researching, analyzing and testing products to recommend the best picks for most consumers. BestReviews and its newspaper partners may earn a commission if you purchase a product through one of our links.
Distributed by Tribune Content Agency, LLC.
© 2023 BestReviews. Distributed by Tribune Content Agency, LLC