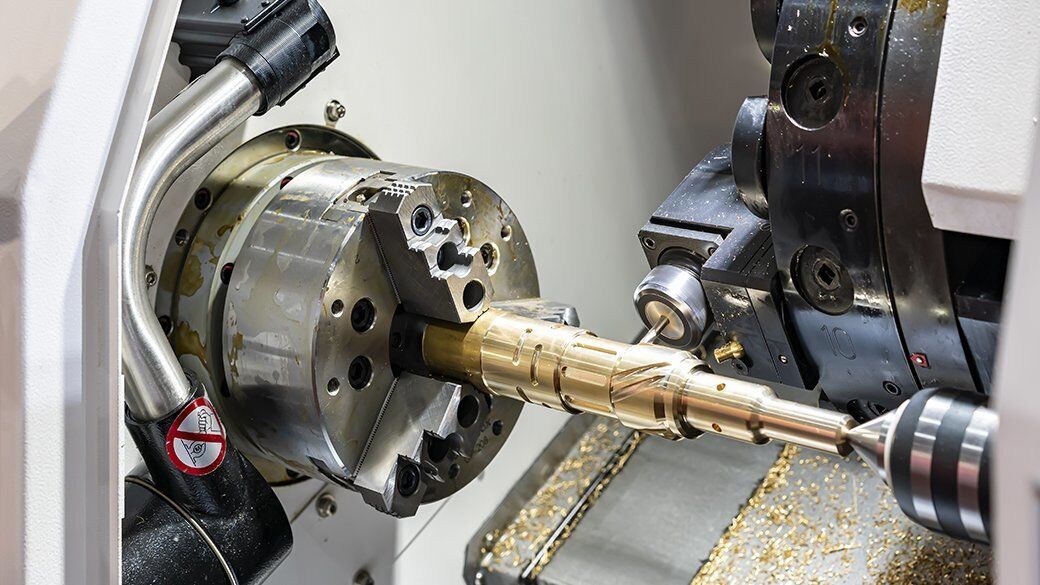 When you're supporting long workpieces in a lathe, you have two choices at the tailstock end: a dead center or a live center. The latter rotates with the work, so it doesn't overheat or wear at it and threaten to come loose. While most are similar in appearance, there are important differences that are explained in our concise guide. We've also chosen a few favorites at the end. Our top pick is the Steelex Heavy-Duty Live Center, which offers accuracy and durability for a lifetime of precision whether working with wood or metal.
Considerations when choosing live centers
Live center size and function 
The tailstock of any lathe has a hole to accept a center. The sides slope — it's called a Morse taper after its inventor, American Stephen Morse. This provides an accurate friction fit, without needing tools. Usually, size is given as MT and can be between 0MT (largest) and 7MT (smallest), with 2MT being probably the most common. You might also see it marked simply as #3 — for 3MT, etc. It's vital that your live center matches the MT of your lathe, otherwise it won't fit.
You also need to be careful with the hardness of the rotating tip. Many are made for woodworking, and the steel can be comparatively soft. Metalworking models need to be harder. Usually, you'll find the intended use mentioned somewhere in the specification; though if you want a live center for metalworking, you may also want to check for a Rockwell hardness figure. This gives you a defined international standard.
Features
The tip of any rotating object moves slightly as it turns. In most cases it's negligible and often has no impact. However, if a live center wobbles too much it's going to damage the workpiece and/or become loose. It can happen with cheap live centers that aren't made well and gets worse as the bearings wear. So, it's always worth investing in quality if you're a frequent user. Live centers may give a manufacturing tolerance, which is more important for engineering use where greater precision is usually required. In the case of our favorite live center, that accuracy is just three tenths of a thousandth of an inch!
You may also get a load or weight rating. If you're just turning pine at modest diameters, your initial blank won't be heavy enough to cause a problem. If you're turning exotic hardwoods or steel bars, it could be.
The type of tip may also be a factor. 60 degrees is the most common for both wood and metalworking, but they can be shallower, stepped or even have a cup end for holding round items. Some are hollow, so a drill or boring attachment can be fed through the tailstock and into the end of the workpiece while it's still fully supported. If you have an unusual turning task it's always worth investigating the options available.
Price
An inexpensive live center will cost around $20, and for home wood shops may be perfectly adequate. If you use one often, you'll probably want to invest around $40 to $60. Versatile multifunction models can be close to $100, and heavy-duty metalworking models can be several times that.
FAQ
Q. Are live centers easy to install and remove?
A. Yes. As long as you have the right taper, it will slip right in. Friction keeps it in place. To remove, either wind back the tailstock until it pops out or use a small rod and a light tap with a hammer to knock it loose.
Q. Do live centers need any maintenance?
A. Not really. Clean it down when you've finished, like you would the rest of the machine, and if necessary, lubricate the bearings — though many are sealed for life.
Live centers we recommend
Best of the best: Steelex Heavy-Duty Live Center
Our take: A durable, high-quality model made with the precision demanded by professionals.
What we like: Hardened to Rockwell 61-65 for extreme durability with wood or metal working. Machined to 0.0003" accuracy. Special head mechanism protects the sealed-for-life bearings. Available in 1MT to 4MT.
What we dislike: Not much. Rare instances of bearing failure.
Best bang for your buck: PSI Woodworking Live Tailstock Center
Our take: Popular low-cost model ideal for the home woodworker needing a 2MT taper.
What we like: Basic but effective live center with substantial dimensions designed to handle large-diameter and heavy workpieces, but perfectly capable with smaller items.
What we dislike: For wood turning only. Bearing cover can come loose.
Choice 3: Nova 7-Piece Live Center System
Our take: Tremendous versatility from one of the market leaders in woodturning accessories.
What we like: Precision made with common 2MT taper. Quick-change components allow for a wide variety of large- and small-diameter spindle work. Hollow body allows for drilling/boring without removal.
What we dislike: Expensive. Occasional problems with bearings.
Bob Beacham is a writer for BestReviews. BestReviews is a product review company with a singular mission: to help simplify your purchasing decisions and save you time and money.
BestReviews spends thousands of hours researching, analyzing and testing products to recommend the best picks for most consumers. BestReviews and its newspaper partners may earn a commission if you purchase a product through one of our links.
Distributed by Tribune Content Agency, LLC.