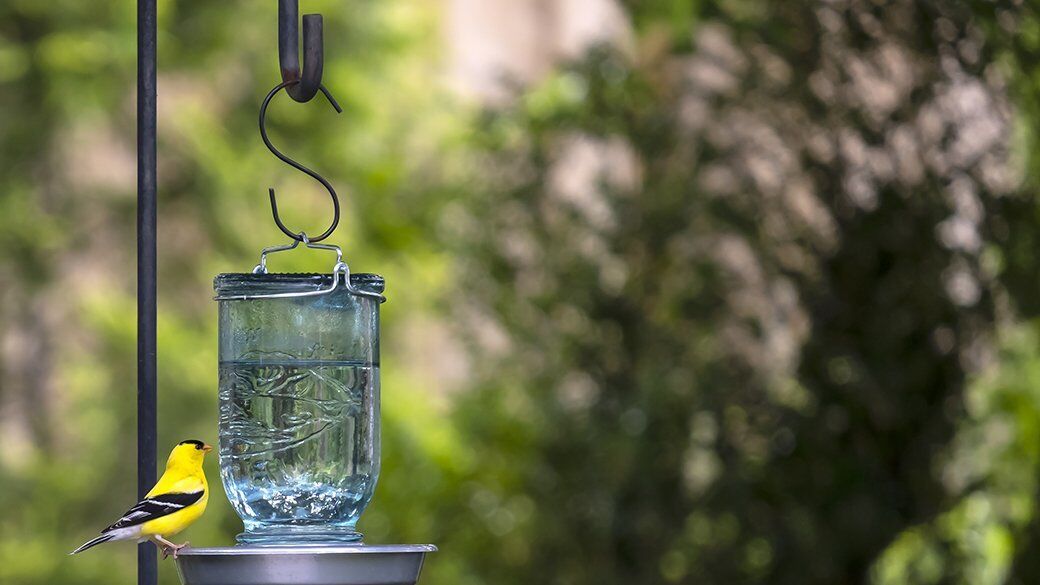 Making small, affordable changes to your garden can quickly and dynamically enhance the beauty of your home. One of the easiest ways to do this is by using shepherd's hooks. Shepherd's hooks allow you to quickly hang anything, from plants and flowers to a bird feeder to a string of lights, so you can effortlessly upgrade your outdoor décor.
Our favorite is Ashman's Shepherd's Hooks. These well-built items are stylish, easy to install and come with a lifetime guarantee. To learn more about these or other quality shepherd's hooks, keep reading.
Considerations for shepherd's hooks
Height
It is normal for shepherd's hook descriptions to list the full length of the item, which includes the part that will be in the ground (roughly 10 to 12 inches). For example, a 65-inch model might only be 55 inches above the ground. Shepherd's hooks range from roughly 15 inches to 90 inches tall. The height you choose depends on your decorating preference, however, the taller the shepherd's hook is, the less weight it can hold. If you are unsure of what size you need, some models are height-adjustable.
Weight capacity
Most shepherd's hooks do not list a specific weight limit, so it can be difficult to be sure which one is the best to get if weight will be a factor. In general, a thicker model that is manufactured using solid metal, at least 1/2 inch in diameter, will be able to support more weight. Also, height is a factor (as noted above), and the base can also make a difference.
Base
Typically, shepherd's hooks are manufactured with two prongs that are pressed into the ground for installation. However, some models may feature one or as many as five prongs (which provide the greatest stability). Alternatively, if you want to place your shepherd's hook on a patio, you can get one that employs a weighted base, so you do not have to push it into the ground.
Shepherd's hook features
Number of hooks
Shepherd's hooks are most often sold in packs of two, four, eight, or more. Unfortunately, there are companies that do not offer an option. If you only need two and the company only offers packs of four, you will have to decide if you can use two more shepherd's hooks or if you should consider purchasing a different model.
Rust-resistant
A shepherd's hook is designed to be outside all year round. Because of this, most come with a powder coating so they are rust-resistant.
Wind-resistant
Many individuals forget to consider the wind when purchasing a shepherd's hook. If you are hanging lighter objects, you want a model with a deep hook so those items can not easily be blown off.
Shepherd's hook prices
The average cost of a shepherd's hook can range from $10 to $20. The price is often dependent on the thickness of the metal, height, and style. Additionally, shepherd's hooks come packaged in multipacks, which will also increase the overall cost.
FAQ
Q. How do I keep my shepherd's hook from falling over?
A. While shepherd's hooks are simple, easy-to-install garden features, if you have soft ground, it might not support them. Three fixes are to purchase shorter shepherd's hooks, only hang lightweight items from the hooks, or consider cementing the shepherd's hooks into the ground.
Q. Can I use a shepherd's hook to hang a bird feeder?
A. Yes. However, it is best to search for the tallest models to give the birds better protection from predators.
Shepherd's hooks we recommend
Best of the best: Ashman's Shepherd's Hooks
Our take: A 4-pack of shepherd's hooks designed for individuals looking for a heavy-duty garden hanger.
What we like: The total length of these rust-resistant shepherd's hooks is 48 inches. They are capable of holding hummingbird feeders, flower baskets, string lights, wind chimes, and more.
What we dislike: These top-end models cost a bit more than average, but they are worth it.
Best bang for your buck: Sorbus Extendable Shepherd's Hooks
Our take: A versatile pack of four shepherd's hooks that is easy on the wallet.
What we like: Extenders allow you to set the hooks at different heights (17.5 inches, 26.5 inches, or 36.5 inches). You can use these temporarily for an event, such as an outdoor party, or as a permanent fixture in your garden.
What we dislike: With this model, you sacrifice a little stability for a lower price.
Choice 3: Beau Jardin Shepherd's Hooks
Our take: If you're looking for shepherd's hooks with a little more elegance, this two-pack will add a extra style to your garden.
What we like: Rugged, wind-resistant and rust-resistant, these swirled garden hangers are built to last. Manufactured as one solid, 1/2-inch wrought iron garden hanger, this durable option can handle your heavy-duty needs.
What we dislike: Some people aren't happy that these are advertised as 65 inches tall when nearly 11 inches are in the ground, but that's a common practice, and they are still the tallest model on our short list.
Allen Foster is a writer for BestReviews. BestReviews is a product review company with a singular mission: to help simplify your purchasing decisions and save you time and money.
BestReviews spends thousands of hours researching, analyzing and testing products to recommend the best picks for most consumers. BestReviews and its newspaper partners may earn a commission if you purchase a product through one of our links.
Distributed by Tribune Content Agency, LLC.