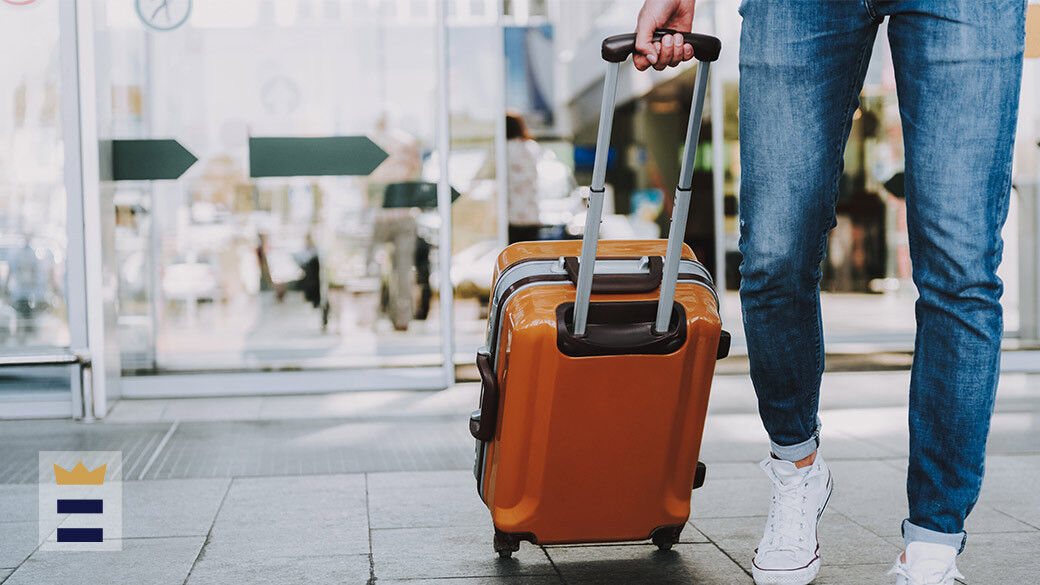 When taking your kids on their first-ever Disney vacation, you're going to need to sort out the suitcase issue. And what better way to commemorate the trip than by getting the whole family Disney-themed suitcases? There are many Disney luggage options for children and adults that feature famous characters and fun designs while also being functional.
The top pick in this category is the Ful Disney Rolling Hardside Set because it offers high-end luggage features like spinner wheels while providing you with three different size options and a Disney-themed design. 
What to know before you buy Disney luggage
Size
No matter what style of luggage you're looking for, size is always going to be the number-one consideration, especially if you're flying to your destination. A larger bag will let you bring home more souvenirs, but it means you'll have to wait at the baggage claim, which is why so many travelers opt for carry-on suitcases that can be stored in the overhead compartment. This size issue is especially important for Disney luggage, as many of these offerings are designed for children. Your little one probably doesn't have the strength or stamina to lug around a full-sized suitcase, which is why there are smaller kid-sized versions out there. However, since they're going to keep growing, it might be smart to buy one that's a bit bigger than you need since eventually, their clothes are going to be taking up more space. 
Wheels
While there are still some bags out there that must be carried, most modern luggage is of the wheeled variety. There are two main wheel configurations: inline and spinner. Spinner luggage has four independently-spinning wheels that can move in any direction, allowing you to push your suitcase through the airport. Inline wheels generally mean two wheels and two rubber stoppers, a configuration that forces you to pull the suitcase behind you, offering a little bit less maneuverability and a greater tendency to tip over. Spinner wheels are usually preferable, but inline wheels are sometimes less expensive, and if you're traveling by car, you might not need to spend more to get fancy wheels.
Hardside vs. softside
Rolling suitcases generally either have a hard shell exterior, which provides more protection against the elements, or a soft exterior that provides a little more give when it comes to stuffing the bag extra full. Softside bags also usually have more external pockets, which is why they're often preferable in carry-on luggage. It really comes down to what's more important to you: a little more capacity vs. protection against accidental drops. Some hardside luggage is expandable, giving you extra room when you need it and eliminating some of the advantages of softside options.
Disney luggage features 
Characters
What Disney luggage has that other suitcases simply can't provide is the ability to pack your clothes into a case that features your favorite Disney characters. Though many adults are longtime-Disney fans or collectors who will appreciate anything with a nod to Walt's many creations, most children are fans of specific movies and characters. Thankfully, there are many options for kids featuring images from different films, so if you shop around enough, you're likely to find their favorites.
Luggage sets
It can be difficult to choose between a carry-on and a checked bag, but you aren't forced to make that choice if you go with a luggage set. Two and three-piece sets give you options when packing, and with a large enough set, the entire family can use matching luggage. Best of all, you can often save money by getting a set, so if you can't decide on one suitcase, consider getting one of the many Disney-themed sets available.
Handles
All luggage has some sort of handle, whether it's the retractable handle on a rolling suitcase, carrying handles on the top or side or a shoulder strap on a duffel bag. Full-size suitcases intended for adults usually have a retractable handle as well as one or more carrying handles. Frequently, but not always, these carrying handles can lock in place so they don't protrude when not in use. Look for a bag that has handles on both the top and side, as that will give you two places to put your hands when lifting it. Children's-bag handles may be less important as you can probably get your hands around them to lift them fairly easily, but the best options will provide the same features adult choices do.
Disney luggage cost 
Higher-end Disney luggage is comparable in price to any quality luggage, with options ranging from $100-$500 or more. What sets Disney apart is that there are many choices designed for children that can be purchased for under $100. Since you know they'll likely outgrow it in a few years, it's best not to overspend on a "Frozen" suitcase and go with something reasonably priced.
Disney luggage FAQ
Can I use my Disney luggage as a carry-on bag on my flight?
A. This isn't an easy one to answer because carry-on requirements differ by airline. Even if a suitcase is advertised as a carry-on, you should still check with your preferred airline to make sure it meets their size restrictions. Also note that many carriers now have weight restrictions for carry-on luggage, so if you overstuff your bag you might get stuck with additional fees. Also, pay attention to whether or not the listed measurements include the wheels. If it says 21 inches but those measurements are missing the wheels, that's really 23 inches, which is too big to fit in many overhead compartments.
Is Disney luggage high quality or is it cheaply made?
A. The quality of a piece of Disney-branded luggage is not dependent on the Disney name, but the name of the company actually producing the suitcase. Disney licenses its characters to a number of different brands, and it's those companies that are actually making the product. There are certainly some cheap-kiddie suitcases out there, but there are also reputable brands like American Tourister that produce Disney-themed luggage, so don't think you can't find something high-quality that also features your favorite characters. In general, if it's a brand you'd buy even if it didn't have Mickey on it, it's probably a safe bet. If you wouldn't consider this bag without the Disney logo, stay away.
Which Disney luggage should I get?
Best of the best Disney luggage
Ful Rolling Hardside Set: available at Amazon and Home Depot
Our take: With suitcases in three sizes, all of which offer hardside protection and spinner wheels, not to mention designs featuring Mickey or Minnie Mouse, this set is proof that you don't have to sacrifice quality in the name of fun.
What we like: The interior of each bag has tie-down straps and zippered pockets. Each suitcase has a telescoping handle along with retractable top- and side-carry handles. The bags are expandable to give you two extra inches of space.
What we dislike: While the smallest bag is carry-on sized, it is quite heavy at 7 pounds when empty.
Best bang for your buck Disney luggage
American Tourister Kids' Softside Upright Carry-on: available at Amazon and Macy's
Our take: While some children's suitcases are cheap toys, this solid option from well-known brand American Tourister is functional and lightweight enough for kids to pull through the airport on their own as they head off on their first big Disney vacation.
What we like: The interior features a mesh pocket, while the exterior has a convenient zippered pocket. There are a dozen different designs available, including Mickey and Minnie, Frozen, and Disney princesses. At 18-inches tall, it meets most airlines' carry-on size requirements and won't be too tall for children to use.
What we dislike: The inline skate wheels mean the bag must be pulled behind you as you walk around, putting little ones at a disadvantage if their parents are lucky enough to have spinner luggage.
Honorable mention Disney luggage
American Tourister Disney Softside Luggage: available at Amazon
Our take: When shopping for the Disney fanatic in your life, you don't want to settle for anything less than the perfect gift, which is why it's so great that this softside suitcase is available in five sizes as well as a two-piece set, and has six fun design options that incorporate Disney characters without being overly childish.
What we like: All the bags except for the underseater feature spinner wheels that are easy to maneuver through crowded airports. Several of the designs feature fun polka-dot patterns on the interior to match their colorful exteriors. The underseater opens from the top down to make it easier to grab things from it mid-flight.
What we dislike: While getting the two-piece set can save you money, it confusingly contains the 24 and 28-inch checked bags rather than one carry-on and one checked bag, which would provide more versatility.
Gregg Parker is a writer for BestReviews. BestReviews is a product review company with a singular mission: to help simplify your purchasing decisions and save you time and money.
BestReviews spends thousands of hours researching, analyzing and testing products to recommend the best picks for most consumers. BestReviews and its newspaper partners may earn a commission if you purchase a product through one of our links.
Distributed by Tribune Content Agency, LLC.