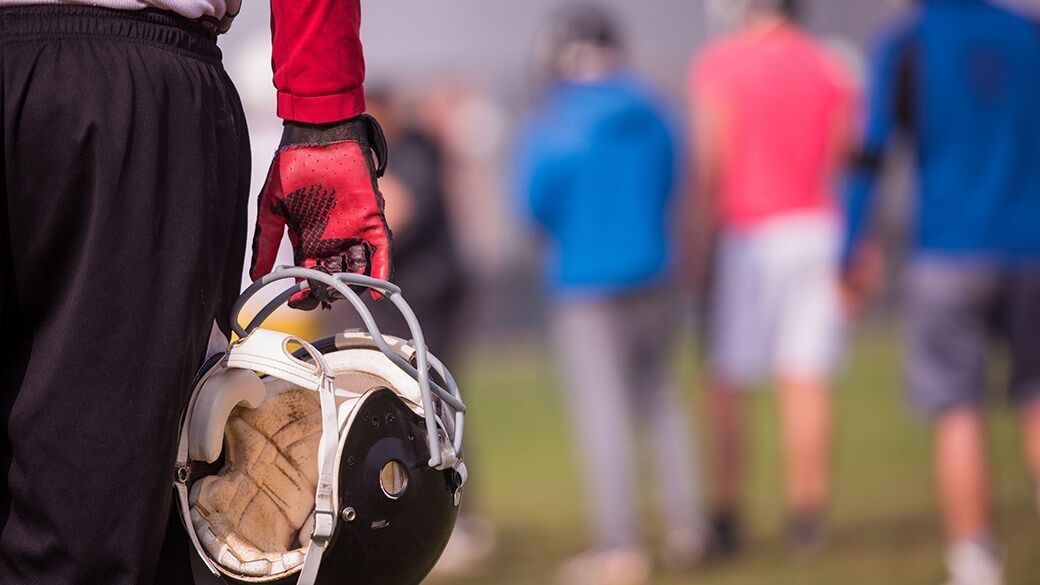 Before a football season begins, stocking up on protective equipment should be at the top of everybody's priority list. However, no player should underestimate the importance of performance-enhancing gear such as football gloves. Football gloves are protective but can also help improve your performance on the field.
Nike is a top brand to consider if you're looking for a high-quality pair of football gloves. The Nike Superbad 6.0 Receiver Gloves are popular among casual and competitive players because of their excellent grip, breathability and flexible support.
What to know before you buy Nike football gloves
Size
Football gloves should be snug, but you don't want them to feel too tight or loose. Gloves that feel too tight can make it difficult to catch a ball, and gloves that are too big can feel awkward and even interfere with your ability to make a catch.
To determine your glove size, you can measure your palm's circumference and the length from the tip of your middle finger to the base of your palm. Once you've done that, refer to a sizing chart to see which glove size corresponds to your hand size.
What position do you play?
There are only two positions where it's highly recommended players wear gloves: linemen and wide receivers. Other players such as tight ends, running backs, defensive backs and kick returners can wear gloves, but it's not as crucial to their position.
Wide receivers are the primary pass-catchers of their team. They often use lightweight with textured finishes on the palms and fingertips for grip, making it easier to catch.
Linemen are heavily padded to withstand high-impact hits and provide more wrist stability than receiver gloves.

Experience level
Beginners should get gloves focused primarily on providing protection. Those gloves are usually more affordable than those with advanced-engineered tacky grips to enhance a wide receiver's catching abilities. However, it's always best to wear gloves you find comfortable.
Nike football gloves features
Magnigrip+ technology
Nike integrates its proprietary Magnigrip+ technology into its best football gloves. Magnigrip+ technology gives the palms a sticky surface and an adhesive-like feel, making the ball stick to your gloves and completing catches much more manageable. Not all Nike football gloves use Magnigrip+ technology, but they all have textured palms and fingertips for extra grip.
Breathability
Nike makes all its football gloves with high-quality materials and ensures they're designed to give players maximum breathability. If you're a receiver, wearing gloves without sufficient air ventilation can be hot. It may affect your performance and ability to catch a ball.
Adjustable strap
Most football gloves have straps for adjusting the fit so you can give yourself a snug or a more relaxed fit, depending on what you find more comfortable. The straps are usually Velcro and are designed to stay in place for extended periods, so you don't need to worry about constantly adjusting the fit during a game.
Nike football gloves cost 
If you're a pass-catcher or a defensive back and want cheap gloves to get you through a football season, you can find a reliable pair for $25-$40. However, more durable gloves for pass-catchers and linemen cost $40-$60.
Nike football gloves FAQ
Can football gloves be used for baseball as batting gloves?
A. Yes, football gloves provide excellent grip for swinging a bat. However, it's not ideal since football gloves don't have the same amount of padding that baseball gloves have that's necessary to reduce shock vibrations when batting.
Is it better to wear gloves when playing in wet weather?
A. Some players find catching the ball in wet weather more challenging and feel that the tacky grips get slippery when wet. However, the newest Nike gloves are made with technology that provides sufficient grip even if wet.
How often should I replace my football gloves?
A. It depends on how often you use them. Generally, football gloves should last at least an entire season. However, over time, the grip will fade, and the seams may begin to come apart, indicating it's time to get a new pair for optimal performance.
Which Nike football gloves should I get?
Best of the best Nike football gloves
Nike Superbad 6.0 Receiver Gloves: available at Dick's Sporting Goods
Our take: Wide receivers and tight ends looking for more control on difficult balls will love these high-performance catching gloves.
What we like: These lightweight gloves feature flexible support and stretch fabric along the back for increased comfort. They have advanced-engineered ventilation channels for superior breathability. The hook-and-loop strap lets players adjust the fit, and the sticky surface of the palms makes it easier to catch tough balls.
What we dislike: Some users found the fingers too long, giving them an awkward feel and fit.
Best bang for your buck Nike football gloves
Nike Men's Vapor Jet 6.0 Football Receiver Gloves: available on Amazon
Our take: These durable gloves have a premium build quality and offer excellent grip and elite performance on the field.
What we like: These gloves are made with breathable and stretchy woven fabrics and have strategically-placed seams for a secure fit. The palms have plenty of grip, the thumbs have extra lightweight padding for comfort and the fingers have a flexible coating for increased control through difficult catches.
What we dislike: They run small, so you may want to consider purchasing a size up. Also, they're pricey, so they're best suited for more experienced players.
Honorable mention Nike football gloves
Nike Adult D-Tack 6.0 Lineman Gloves: available at Dick's Sporting Goods
Our take: These gloves are designed for linemen looking for a boost in control without sacrificing comfort.
What we like: These gloves are packed with ultrasoft protective gel padding for increased shock absorption during high-impact hits. They have Sticky Hydragrip palms for superior grip, fingertip seams for enhanced range of motion and adjustable cuffs, so players have a comfortable fit.
What we dislike: They're not as durable as other lineman gloves, as some customers reported the seams near the thumbs coming apart after a few weeks of regular use.
Want to shop the best products at the best prices? Check out Daily Deals from BestReviews.
Sign up here to receive the BestReviews weekly newsletter for useful advice on new products and noteworthy deals.
Kevin Luna is a writer for BestReviews. BestReviews is a product review company with a singular mission: to help simplify your purchasing decisions and save you time and money.
BestReviews spends thousands of hours researching, analyzing and testing products to recommend the best picks for most consumers. BestReviews and its newspaper partners may earn a commission if you purchase a product through one of our links.
Distributed by Tribune Content Agency, LLC.
© 2022 BestReviews. Distributed by Tribune Content Agency, LLC