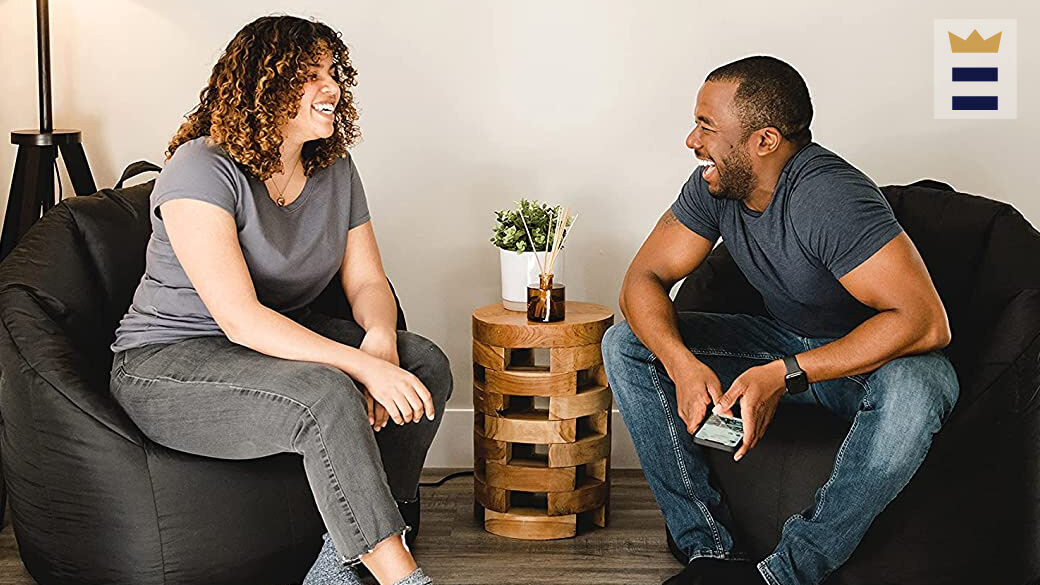 Among all the seating options on the furniture market, bean bag chairs reign supreme as a favorite choice for casual, laid-back lounging. Versatile and affordable, it's no surprise that they're often seen in dorms, basements, game rooms and kids' bedrooms. 
Bean bag chairs have flexible designs that allow occupants to find a comfortable seated or reclining position. One of the top trending bean bag chairs, Moon Pod, is a unique design that simulates floatation therapy to deliver a total-relaxation experience. 
What to know before you buy a bean bag chair
Why bean bag chairs are popular seating options
Bean bag chairs are ideal go-to seating options in many situations, and it's not just because they're more affordable than most wing chairs or sofas. 
The flexible designs of bean bag chairs accommodate various seated or reclining positions for kids and adults alike. 
Because they're lightweight, bean bag chairs are easy to move around rooms or from room to room. 
Bean bag chairs offer access to filling materials, which means occupants can customize how firm they are. 
Unlike regular furniture, bean bag chairs usually have removable shells that are machine washable for easy cleaning. 
 
Kid vs. adult bean bag chairs
There are some bean bag chairs on the market specifically designed for kids or adults. Bean bag chairs for kids are typically smaller and support lower weight capacities. Many of them have safety features, like tamper-resistant zippers, to prevent kids from accessing filling materials. Adult bean bag chairs are generally larger and support higher weight capacities. Some of these designs have finer details to make them blend in more easily with room décor. 
Bean bag chair features
Popular sizes
There are no standard sizes for bean bag chairs, but generally speaking, they can be separated into three size categories. 
Small bean bag chairs, often used by kids, are around 24-30 inches wide. 
Midsize bean bag chairs typically measure 30-40 inches wide. This is the most common size, and it's suitable for both kids and adults.
Larger bean bag chairs measure 40 inches and above, with some designs peaking at nearly 90 inches. These spacious designs often accommodate more than one occupant. 
 
Bean bag covers
These days, most bean bag chairs are manufactured with removable covers to facilitate cleaning. They're made with durable, rip-resistant material blends that may include polyester, nylon, cotton twill, vinyl, corduroy or microfiber. Many of these materials are machine washable, and some of them are dryer safe. The ones that are not, however, can be spot cleaned or brought to a dry cleaner for deeper cleaning.
Fill materials
Bean bag chairs are filled with synthetic materials, namely beads or memory foam. Here's how they compare.
The most common filler is expanded polystyrene (EPS) beads, which are plastic pellets that are similar in design and texture to styrofoam. They recover well from pressure and compression so that bean bags return to their original shapes easily.
There are also expanded polypropylene (EPP) beads. Their plastic composition is superior to EPS beads because they recover from compression more quickly. While these are more desirable, it's somewhat challenging to find EPP-filled bean bag chairs on the market. 
Certain bean bag chairs use memory foam for filling. It gives bean bag chairs a fluffy feel and shape, and the foam bounces back to its original size more quickly than EPS and EPP beads. However, memory foam eventually loses its bounciness and will need replacement.
Bean bag chair cost 
Entry-level bean bag chairs, including some without removable covers, cost $50 and below. Larger designs with removable covers cost $65-$175. Bean bag chairs with unique shells or filling materials may run $200-$600.
Bean bag chair FAQ
How do I preserve bean bag chairs?
A. Bean bag chairs are fairly durable and may withstand the better part of a decade of use. However, to keep them in good condition, spray them with water-repellent treatment to keep spills and stains at bay. You may need to reapply the spray after washing the bean bag cover, as well. 
What do I do when it's time to add more filling to my bean bag chair?
A. While you can contact the manufacturer directly to buy additional filling, you can actually purchase filling online from other retailers. If you want the same exact filling, make sure you refer to the bean bag chair's tag to find out whether it currently has EPS or EPP beads or some other type of filling.  
Which bean bag chair should I get?
Best of the best bean bag chair
Moon Pod Moon Pod: available at Moon Pod
Our take: A high-end option, Moon Pod offers occupants a floating experience with high-density beads that mimic floatation therapy. 
What we like: Moon Pod allows users to sit, recline or lay on it. It's constructed with a supportive dual membrane that is responsive and contours to the shape of your body. The outer shell is machine washable and dryer safe for easy cleaning.
What we dislike: It's notably heavier than most bean bag chairs on the market, so it may be slightly cumbersome to move. 
Best bang for your buck bean bag chair
Big Joe Milano Bean Bag Chair: available at Amazon
Our take: This unique design feels just like a bean bag chair, only it offers more structure so occupants can sit upright more comfortably. 
What we like: The chair is made with rip-resistant material that holds up well to plenty of use, plus the shell is stain- and water-resistant. It has a dual-zipper design that prevents filling from escaping. There's a handle at the top of the chair for easy moving and carrying. 
What we dislike: It requires regular "fluffing" and reshaping to evenly distribute filling, and the seat back is lower than some users expected.
Honorable mention bean bag chair
Flash Furniture Oversized Bean Bag Chair: available at Amazon
Our take: A classic design, this oversized bean bag chair is a versatile seating option that is ideal for dorms, basements and game rooms. 
What we like: It has a removable cotton-twill cover that can either be spot cleaned or machine washed. As a larger design, the bean bag chair is ideal for teenagers and adults. It's filled with beads, which are secured in the inner compartment with a safety zipper. 
What we dislike: The inner bag that holds the beans isn't very durable. The chair may also require frequent refilling.
Sian Babish is a writer for BestReviews. BestReviews is a product review company with a singular mission: to help simplify your purchasing decisions and save you time and money.
BestReviews spends thousands of hours researching, analyzing and testing products to recommend the best picks for most consumers. BestReviews and its newspaper partners may earn a commission if you purchase a product through one of our links.
Distributed by Tribune Content Agency, LLC.