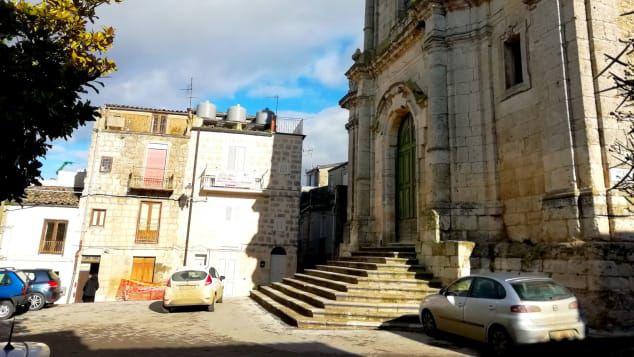 While many buyers set out to purchase dilapidated houses with the bargain basement price tag, some have ended up settling for more expensive homes in better shape.
After a long tour of Mussomeli's €1 buildings, Belgian businessman Patrick Janssen picked a "superior" dwelling at a higher price, which he has now almost completely refurbished.
Like many, he was lured by the media coverage of the cheap homes and the prospect of making a life-changing move.
"I'll be honest, we didn't buy a €1 house," he says. "We were shown something like 25 old buildings, some badly in need of repair, so at the end we opted for a three-room decent building for €10,000 and I invested more money in the renovation."
But it wasn't just the poor state of the buildings that steered him away from the € end of the scheme.
"I thought, if I buy a nice home, not crumbling down and I neatly fix it making it brand new again, it would last many more years," Janssen adds.
"My five kids, in 20 years time, would have a house still in perfect shape. If something happens to me, they'll have a good place where they can live and while they grow up they can come here with their friends."
For the time being, his plan is also to use it just as a holiday house where the family can spend several weeks or months per year.
"But now, giving it a second thought and after discovering the beauty of the place, it might become my future retirement spot."
Janssen has made the purchase with long-term plans in mind and weighing many factors, primarily the short distance between his main home in Brussels and Mussomeli.
"Sicily is around the corner. With just a two hours flight we escape from Belgium and reach Catania's airport. That's certainly a big plus point if you come from a European country to spend the weekend".
Mussomeli, when compared with frenetic Brussels, is another world, he says.
"People in Belgium don't relax. Life here is simpler, the town is cozy and the surrounding nature spellbinding. It's perfect to recharge one's batteries and detox".
Janssen's house has a panoramic terrace overlooking the old district's tile rooftops, quaint churches and narrow alleys.
"This corner of Sicily is wild, intact, green, not crowded. It's a perfect starting point to explore the rest of the island."
The purchase also went pretty smoothly for Janssen. Paperwork turned out easier than expected, despite Italy's bad reputation for red tape and excessive regulation.
"Actually, I was quite surprised in finding that buying and renovating a house is so much easier in Sicily than in Belgium."