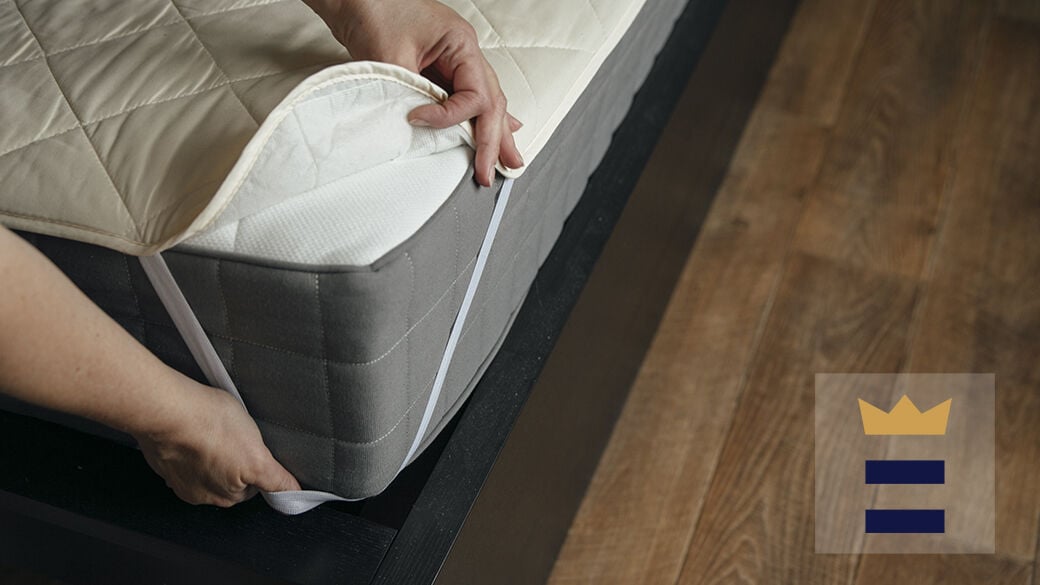 How to clean a mattress topper
If you use a mattress topper, it's eventually going to get dirty from sweat, spills, dust, and so on. It's natural to wonder if you can wash it, but it isn't a simple yes or no answer. Some types of mattress toppers are suitable for the washing machine, but others can only be spot cleaned.
What is a mattress topper?
A mattress topper sits on top of a mattress to make it more comfortable. In an ideal world, your mattress would be comfortable enough to sleep on without a topper, but realistically some mattresses sag or become less comfortable over time and you might not be able to afford a replacement.
You'll find two main types of mattress pads: foam mattress pads, such as the Tempur-Pedic TEMPUR-Topper Supreme 3-Inch Mattress Topper, and mattress toppers filled with polyester hollowfibre, such as the Linenspa Signature Collection Mattress Topper.
Is a mattress topper washable?
Whether you can machine wash a mattress topper depends primarily on its material. Pillow-style mattress toppers stuffed with polyester hollowfibre are almost always machine washable, while memory foam and other foam mattress pads aren't machine washable.
Machine washing
Assuming your mattress topper is machine washable, how do you go about it? First of all, you'll need to make sure your topper fits in your washer. Twin and full toppers should fit in most home washing machines, while queen and king mattress toppers are less likely to squeeze inside. Depending on the drum size and the size of your mattress pad, you might need to visit a laundromat with extra-large washers.
Once you've found a suitably sized washer, check the label for washing instructions. Most should be washed on a cold cycle with a gentle laundry detergent but always double-check the directions.
Your mattress topper may be suitable for tumble drying or it might be air-dry only. If the latter, note that your mattress topper will take a while to air dry, so we'd recommend washing it on a warm, dry day when it will dry more quickly.
Spot cleaning
Just because a mattress isn't machine-washable, you don't need to let it stay dirty. After stripping your bed, spot clean any stains on your mattress bed using an enzymatic stain remover or a 50/50 solution of water and white vinegar, if you prefer to use natural products.
To remove general dirt and odors, you can also sprinkle your mattress pad all over with baking soda, leave it for several hours, and then vacuum it off. The baking soda naturally absorbs odors and breaks down grease, leaving your mattress pad fresher after it's been vacuumed away.
You can even add a few drops of essential oils to the baking soda to give a light fragrance to your mattress topper. If you have trouble dropping off to sleep, lavender is an excellent choice.
Caring for your mattress topper
Taking care of your mattress topper will prevent it from requiring such regular cleaning. Our recommendation is to use a waterproof mattress protector over the top of your mattress and mattress topper. We love the eLuxurySupply Dimpled Waterproof Mattress Protector, as it offers excellent protection but is soft and doesn't make a crinkling sound when you move around in bed.
It's also best to air your mattress topper at least once a month by leaving the sheets off for about a couple of hours when you strip your bed to change the sheets. If the weather allows, leave the bedroom windows open for more effective airing. You can also vacuum the surface of your mattress topper once every month or two to remove dust, but only do this with foam mattress toppers. 
Lauren Corona is a writer for BestReviews. BestReviews is a product review company with a singular mission: to help simplify your purchasing decisions and save you time and money.
BestReviews spends thousands of hours researching, analyzing and testing products to recommend the best picks for most consumers. BestReviews and its newspaper partners may earn a commission if you purchase a product through one of our links.
Distributed by Tribune Content Agency, LLC.