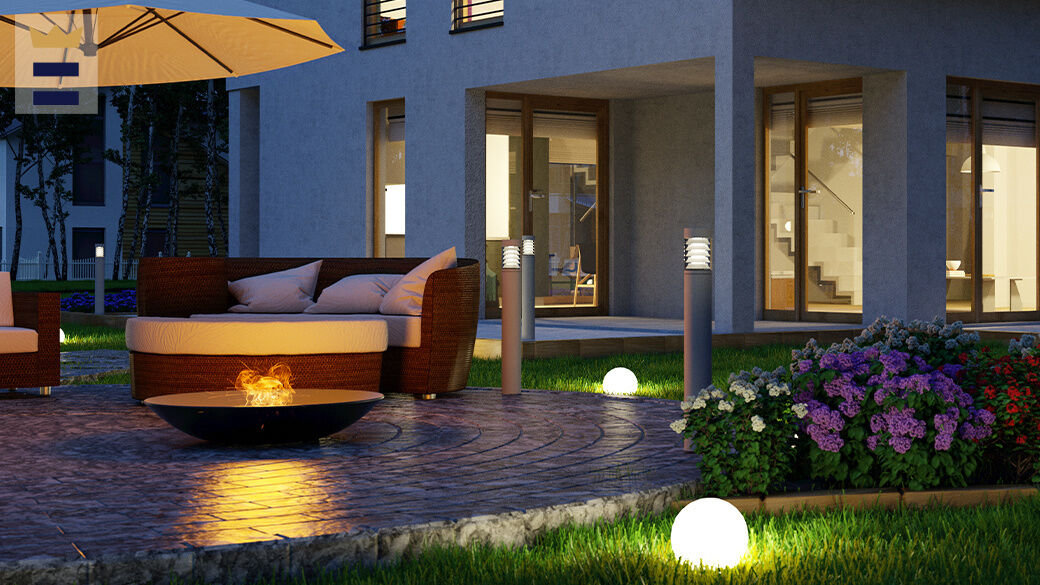 Why do you need garden lights?
With the flick of a switch, garden lights can transform a drab backyard into a magical wonderland. They can illuminate steps or a pathway, or simply exist as a statement piece. Not only does a well-lit property increase curb appeal, but it can also create added security. Entertaining in your backyard doesn't have to end at sunset, and with both functional and decorative options, garden lights are essential for creating a warm and inviting space.
This guide covers all you need to know about garden lights as you consider which options might work well for your space and take a look at some of the best products on the market.
Types of garden lights
Spike or path lights
These are the most common type of outdoor garden lights. They're inserted directly into the dirt along the intended path. If you need to see where you're walking at night, these no muss, no fuss lights help with exactly that.
Outdoor spotlights or floodlights
Spotlights can illuminate the best feature of your space or can be placed facing a wall to illuminate a larger expanse. Floodlights are the same as spotlights in terms of wattage, only they brighten a wider space.
Garden wall lights or sconces
If you have a solid wall, you can affix a garden wall light, much like a sconce. Some wall lights are hardwired, while others utilize solar or battery power. A beautiful sconce is a great finishing touch to a charming outdoor space.
Deck lighting
Deck lighting integrates directly into the deck, up-lighting the area from below. Not only do deck lights look good, but they can also help you see where you're walking.
Step lights
You wouldn't want to trip in your garden after dark, and if you have stairs, that can certainly be a hazard. Step lights brighten the stairway in the evenings for added safety and aesthetics.
String lights
String lights can set the mood, from romantic to an all-out bash. There are many options for bulbs including Edison, ball, twinkle, etc. Versatile placement makes these a must-have for any garden, deck or gazebo.
Things to consider when purchasing garden lights
How much will garden lights cost?
You might need several strands, boxes or sets. Spike lights, string lights and tiki torches run you under $20 apiece, but a nice wall sconce starts around $30 up to $100 or more for nicer fixtures. If you want something that requires professional installation like deck lights, you'll have to factor that into your budget.
Do I need motion lights?
If safety and security are your main lighting concerns, motion lights are an excellent option. Triggered by a motion sensor or a timer, these lights very effectively illuminate large areas like backyards or driveways when tripped.
Installation type
Will this be a self-install, or do you need professional help? Fortunately, many garden light choices like string lights or step lights require only you and a few tools.
Solar, LED or incandescent
Solar-powered lights are the optimal choice for energy efficiency with no operational cost. However, if the brand you love only offers traditional incandescent bulbs instead of newer LEDs, it's good to know that LEDs are much more cost- and energy-effective, as they don't require frequent replacements. Remember, even if incandescent bulbs are cheaper on the front end, an incandescent bulb will cost you more long-term.
The best garden lights
Hampton Bay 24-Light Indoor/Outdoor 48-Foot String Light: available at Home Depot
Our take: An elegant strand of 24 LED Edison bulbs that stretches 48 feet, perfect for lighting up almost any outdoor space.
What we like: These durable bulbs are plastic instead of glass, so they're much less prone to breakage. LED lights use significantly less energy than incandescent. The Edison bulbs are a nice vintage touch.
What we dislike: If you live in a rainy climate, these might not be the choice for you, as some users have complained that water seeps into the bulbs.
Kaixoxin Solar Lantern Lights: available at Amazon
Our take: This multifunctional lantern light utilizes solar power and an LED bulb. The intricate pattern is accentuated by a pewter metal finish.
What we like: These lanterns cast a beautiful pattern, making them function as both art and light. They're small enough to brighten a pathway, but large enough to stand on their own. They're also portable so you can change your mind and easily reconfigure.
What we dislike: Some reviewers say it emits a dimmer light than expected.
Defiant 270° White Motion-Activated Outdoor Floodlight: available at Home Depot and Amazon
Our take: A clean, solar-powered, low-voltage floodlight that covers 270 degrees of motion detection.
What we like: A lot of customization options. The lights can be adjusted in multiple directions. The motion sensor features three sensitivity settings.
What we dislike: The wiring can be somewhat complicated for a self-install.
TIKI Brand Bamboo Tiki Torch: available at Home Depot and Wayfair
Our take: Set of four bamboo tiki torches that burn up to 5 hours per fill with a wide mouth opening for easy pouring.
What we like: The price can't be beat for this yard torch at $6.45 apiece. Standing 57 inches and featuring a 12-ounce metal fuel tank and a metal snuffer cap, they should last for a few years, as they use weather-resistant treated bamboo. They come pre-assembled.
What we dislike: Some reviewers have complained that the weaving has separated at the top.
Westinghouse Lighting Burnham Exterior Wall Lantern: available at Amazon and Home Depot
Our take: Mission-style light from a trusted brand with clear instructions and mounting hardware.
What we like: Stands out for its craftsman style, simple installation and warm yellow glow.
What we dislike: Some reviewers found that their units have rusted after several years of exposure.
Stefanie Hammond is a writer for BestReviews. BestReviews is a product review company with a singular mission: to help simplify your purchasing decisions and save you time and money.
BestReviews spends thousands of hours researching, analyzing and testing products to recommend the best picks for most consumers. BestReviews and its newspaper partners may earn a commission if you purchase a product through one of our links.
Distributed by Tribune Content Agency, LLC.