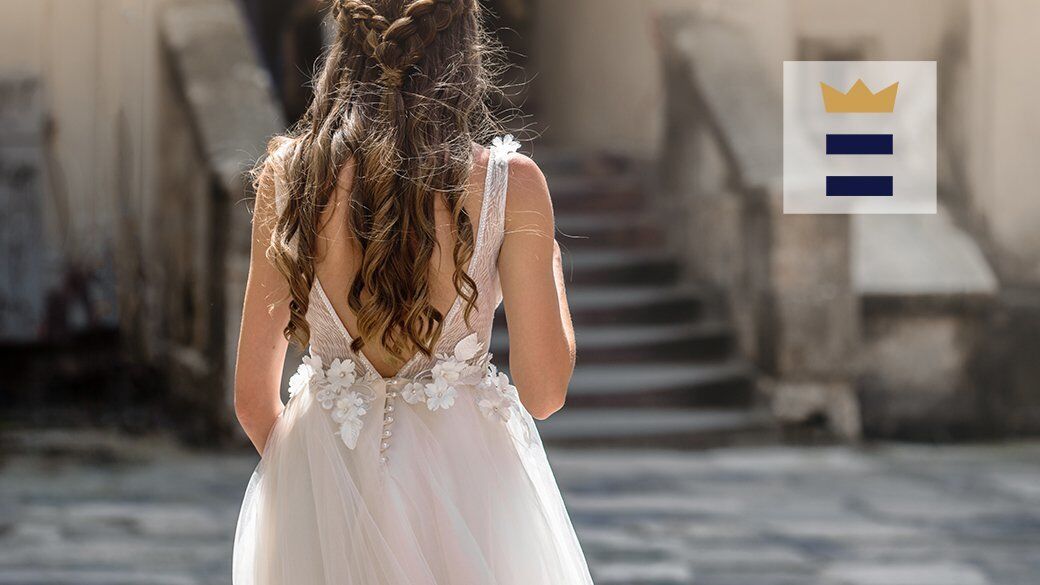 Tops and dresses with strapless or backless designs look best when worn with adhesive bras. Their convenient self-stick cups are virtually undetectable beneath even sheer or flimsy garments.
There are countless adhesive bras on the market now, including designs available in different colors or unique shapes. We introduce you to these styles in our buying guide on adhesive bras, and we share a few of our favorite picks. Our top choice, Fashion Forms Women's NuBra Ultralite Bra, has a front snap closure for a customizable fit.
What to know before you buy an adhesive bra
Bra type
The most popular styles of adhesive bras include silicone and fabric stick-ons. Silicone types are seamless and smooth, while fabric styles offer more support. These styles typically come with bottles of glue or specialty tape. Laced adhesive bras are similar in construction, only they have centerline lacing to offer a customizable fit.
There are some U-plunge backless strapless bras, many of which have underwires. They're made for deep-cut backless tops and dresses. Other options for adhesive bras include lift tape and pasties, both of which cover the nipples.
Size
Given their unique shape, adhesive bras are only sold in bra cup sizes ranging from AA to DD. Some wearers recommend going up a cup size to achieve additional coverage or a better fit. Another detail to keep in mind is that cup sizing isn't very consistent across manufacturers, so be prepared to try more than one.
Adhesive bra features
Colors
Adhesive bras are available in neutral colors like nude, white, black and pale pink. If possible, opt for an adhesive bra whose color is the same as your top or dress. If not, using a skin-colored adhesive bra is a suitable alternative.
Closures
Many styles of adhesive bras have front closures. Silicone and fabric bras may have snap closures, while laced styles feature a corset-inspired laced closure. All these styles offer a customizable fit to some degree. However, wearers interested in emphasizing cleavage are better served by laced styles.
Thickness
Many adhesive bras are noticeably thinner than regular lined bras, since they're intended to be low-profile and undetectable. A few adhesive bras have padded cups to enhance the bust. Some wearers feel these styles also provide a bit more support.
Cut
Cut refers to how low the bra sits on the bust. The average silicone or fabric adhesive bra works well for most strapless and backless garments. Deep-cut tops and dresses are better served by U-plunge designs, which are contoured in such a way that they aren't noticeable.
Adhesive bra cost
Adhesive bras with basic support cost $18 and below, whereas contoured designs with more support cost closer to $25. Adhesive bras with better construction, including those made by higher-end bra brands, run $30-$60.
Adhesive bra FAQ
How many wears can I get out of an adhesive bra?
A. Most adhesive bras are reusable and come with enough adhesive to last through nearly 25 wears. Manufacturers sometimes sell adhesive separately so you can continue using the bra. Some adhesive bras, like self-stick petals, can only be used once or twice.
How do I wash an adhesive bra?
A. Hand wash the adhesive bra and let it line dry. It's best to use a detergent without built-in fabric softeners. Unfortunately, these formulas tend to break down synthetic materials in adhesive bras, like silicone or polyester.
Which adhesive bra should I get?
Best of the best adhesive bra
Fashion Forms Women's NuBra Ultralite Bra: available at Amazon
Our take: Excellent option if you're wearing a strapless or spaghetti-strap dress or top.
What we like: Lightweight design features reinforced construction for additional support. Front closure lets wearers customize fit. Bra earns praise for its long-wear adhesive.
What we dislike: Finding the right positioning comes with a bit of a learning curve.
Best bang for your buck adhesive bra
Niidor Adhesive Strapless Bra: available at Amazon
Our take: One of the most affordable options that doesn't compromise on support.
What we like: Available in an extended size range and three skin tones. V-shaped cups offer a natural, supportive fit. Constructed with smooth silicone for a seamless fit.
What we dislike: The silicone construction isn't as durable as expected.
Honorable mention adhesive bra
Maidenform Front-Closure Adhesive Bra: available at Kohl's
Our take: A contoured bra from a reputable brand known for quality construction.
What we like: Sides of bra are cut in a way that won't be revealed with deep-cut arm holes. Runs true to size. Works well with sheer or flimsy garments. Available in three skin tones.
What we dislike: Adhesive isn't very sticky, and the bra becomes unstuck after a couple of hours.
Sian Babish is a writer for BestReviews. BestReviews is a product review company with a singular mission: to help simplify your purchasing decisions and save you time and money.
BestReviews spends thousands of hours researching, analyzing and testing products to recommend the best picks for most consumers. BestReviews and its newspaper partners may earn a commission if you purchase a product through one of our links.
Distributed by Tribune Content Agency, LLC.