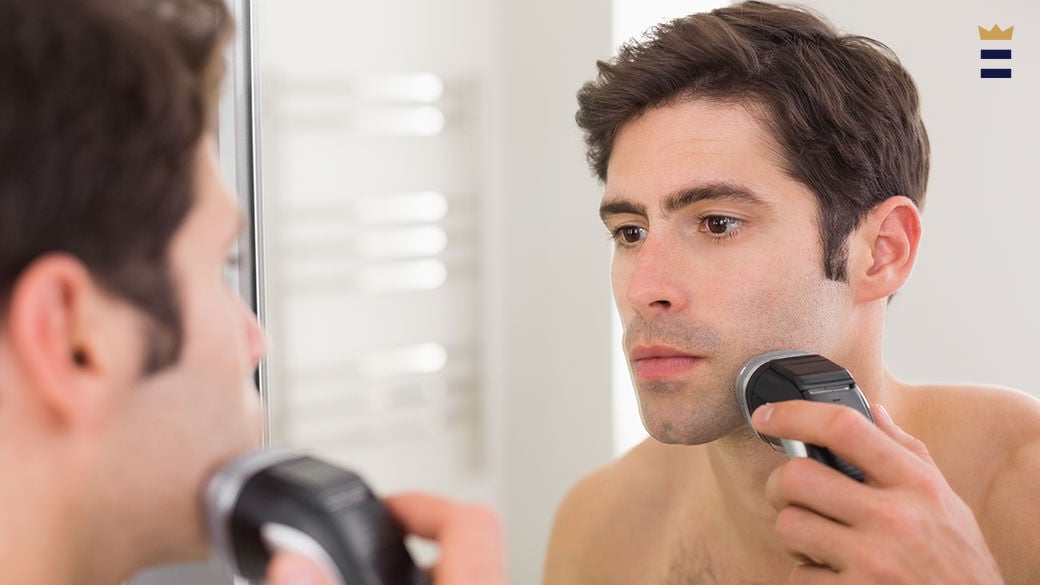 Having sensitive skin shouldn't stop you from getting a close and comfortable shave. Oftentimes, it's the kind of razor you have that can lead to increased skin irritation and those embarrassing cuts or ingrown hairs. 
Electric razors can be a good option for people with sensitive skin. Although you don't always need to have a model with all the bells and whistles, the Braun Series 9 9370cc is a fully comprehensive and effective option that is designed with sensitive skin in mind. 
What to know before you buy an electric razor for sensitive skin
Why an electric razor for sensitive skin
Although traditional cartridge razors will provide a much closer shave than electric razors, they are more likely to cause skin irritation or nicks due to their tendency to dull quickly. Razor burns, rashes and skin sensitivity usually occur because dull blades can scrape off thin layers of skin cells surrounding the hair follicle rather than cutting the hair.  
The motor operating power of electric razors provides a quicker and gentler shave, which means less blade time on the skin. Flexible heads that move easily along contours make electric razors more capable of being able to shave hairs that grow in different directions, which reduces the need to do multiple passes on the skin.
Shaving with sensitive skin
Most electric razors have wet and dry shaving capabilities. However, if you have skin prone to irritation, it's best to opt for wet shaving. Wet shaving allows for a more protected surface and hair that's easier to cut. 
Use hot water and a facial wash to clean and exfoliate the skin and allow for the hair cuticle to swell and soften. Then apply a shaving cream or pre-shave oil to help provide moisture and a way for the blades to glide easier over the skin. After shaving, you can use a cool compress to soothe any red or irritated patches of razor burn before applying moisturizer. 
Blades
The blade heads of electric razors will usually fall under two categories: foil and rotary. Rotary heads will typically have three discs on the surface that spin to cut the hair, while foil heads have many blades facing multiple directions that oscillate beneath protective sheets to catch all the hair.
When it comes to sensitive skin, a foil razor option is better because the blade won't come in contact with the skin as often due to the protective foil sheets. No matter the blade type, a sign of a good electric razor head for sensitive skin is one that won't become hot in the shaving process. Heat can cause greater irritation to sensitive skin. 
Electric razor for sensitive skin features
Cleaning and charging stations
Many electric razors, especially higher-end options, will come with their own self-cleaning and charging stations. The automatic cleaning station will usually contain cartridges that emit a cleaning solution and a specific oil to wash, sanitize and lubricate the blades. These cartridges will need to be replaced regularly. 
These stations are not only convenient but will ensure your blades are always prepped to glide easier on the skin. A fully charged motor and a clean blade will provide the best shave possible on the first pass.  
Attachments
Most electric razors will come with a series of attachments to suit all your shaving needs whether you are just trimming or wanting a close shave. Many offer interchangeable guards that allow you to pick the trimming length or smaller heads that can provide precision shaving for areas like beard lines or sideburns. 
Electric razors for the body
Electric razors can also be a great option for shaving needs anywhere else on your body. Typically, smaller in design and often with detailing attachments, some electric razors are suitable for shaving legs, underarms and pubic hair.  
Electric razor for sensitive skin cost
The costs of an electric razor can vary between $30-$350. More affordable razors will tend to have fewer features and a lower blade count compared to options from a higher price point. 
It is worth noting that although the initial cost of an electric razor is greater than a cartridge razor, they can be more cost-effective in the long run because they won't have to be replaced nearly as much.  
Electric razor for sensitive skin FAQ
How often should I replace my blades?
A. Blades will typically need to be replaced once every 18-24 months. However, this will depend on how well you care for your blades and if they are regularly cleaned and lubricated. 
How do I know that my blades are becoming dull?
A. If you notice that you are needing to go over one spot multiple times to get a closer shave or start to experience redness or ingrown hairs, it's time for your blades to be replaced.  
Which electric razor for sensitive skin should I get?
Best of the best electric razor
Braun Series 9 9370cc: available at Amazon
Our take: A highly capable yet gentle electric foil razor that has five synchronized shaving elements to offer a close shave with one stroke.  
What we like: This Braun razor utilizes an intelligent sonic technology that provides 10,000 micro-vibrations to provide an ultra-comfortable shave and capture more hair in each stroke.  
What we dislike: This model is priced on the higher end. 
Best bang for your buck electric razor
Remington F5-5800 Foil Shaver: available at Amazon
Our take: At a great value, this rechargeable foil shaver provides a close shave using a 3-stage cutting system.
What we like: This model was developed with an intercept tool to help capture hairs of different lengths and two flexible coils that closely cut hair with no irritation. It includes a pop-up detail trimmer to reach sideburns and create beard lines. 
What we dislike: Some users say this razor is difficult to clean and the protective foil didn't last as long as promised. 
Honorable mention electric razor
Braun Series 5 5190cc: available at Amazon
Our take: A comprehensive foil razor that has skin-sensing technology and comes with a charging and cleaning dock.  
What we like: The auto-sensing motor adapts to hair density and the skin-friendly flexible foil head can move in eight different directions to capture hair in various directional growth in one stroke. There is also a specialized middle trimmer that helps to lift hair that is lying flat.
What we dislike: Some users report that the larger head of this model makes it difficult for the cleaning station to work and drain as effectively as other Braun models. 
Tessa Flores is a writer for BestReviews. BestReviews is a product review company with a singular mission: to help simplify your purchasing decisions and save you time and money.
BestReviews spends thousands of hours researching, analyzing and testing products to recommend the best picks for most consumers. BestReviews and its newspaper partners may earn a commission if you purchase a product through one of our links.
Distributed by Tribune Content Agency, LLC.