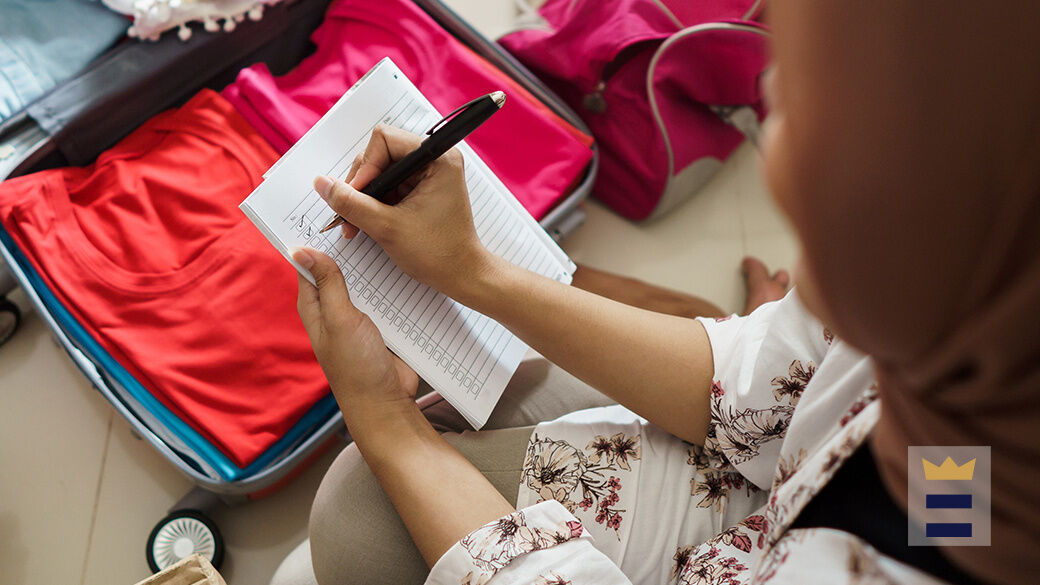 Holiday travel essentials
When it comes to travel, there are a lot of unforeseen variables and those things that you can't control, which is why it's important to try and make the experience as comfortable and seamless as you possibly can. Even if you can't influence the weather or pick who will be sitting next to you, you can plan ahead so that you're entertained, cozy and healthy when traveling during the holiday season.
This checklist will help you be prepared as you navigate a busy time of year. Here's everything you need to travel.
Holiday travel checklist
Amazon Basics Passport Holder: available at Amazon
A quality passport holder protects the valuable document while also allowing for easy access when you need to show it. This leather option by Amazon Basics comes in a few different colors while also offering spots for money, identification and other important items.
Anker PowerCore Slim: available at Amazon
Be sure to keep all your many devices fully charged as you travel with the reliable PowerCore from Anker. This model from a trusted name in electronics offers fast charging for the latest smartphones while adjusting to those devices that require less power. It's also light, thin and durable, making it ideal when you're on the go.
Kindle Paperwhite: available at Amazon
A high-quality e-reader like the latest Kindle Paperwhite condenses scores of books into one convenient device. It saves plenty of space while allowing you to take as many novels, short stories and magazines that you want. What's more, this versatile model lets you read in the dark on the plane as well as in the sun by the pool with its backlighting, anti-glare screen and waterproof construction
Wet Ones Antibacterial Hand Wipes: available at Amazon
With so many people traveling during the holiday season, it's important to avoid germs and stay clean and healthy as you move throughout public spaces. This set of convenient travel wipes are imperative to have nearby, useful for wiping down your hands as well as seats, armrests and other shared spots.
Trtl Pillow: available at Amazon
Whether you're trying to sleep in the car, at the terminal or on a plane, a proper travel pillow will afford the comfort that you need. This popular, uniquely designed option by trtl wraps around your neck and chin, providing support on either side so that you can rest easily without any sores or aches when you awake.
Honeywell N95 Disposable Respirator: available at Amazon
Travel safely and easily with a comfortable and secure N95 mask. This pack includes 50 disposable masks that should cover you for the holiday travel season and beyond. Each has an adjustable nose clip and durable, elastic head straps for a snug fit. This set offers terrific value for an essential travel accessory.
Wanderlust Travel Compression Socks: available at Amazon
For longer trips, a pair of compression socks can relieve pain associated with staying still for long hours at a time. This option by Wanderlust promotes circulation in the feet and calves while providing comfort and relief. The supportive foto helps when you're walking long distances before, between and after travel.
Amazon Fire Tablet: available at Amazon
Enjoy your favorite shows, movies and games with a tablet while traveling. This smaller option by Amazon caters to entertainment and is amongst the least expensive options available. Download content ahead of time to enjoy offline and easily connect your earbuds for an immersive, intimate experience.
e.l.f. Jet Set Hydration Kit: available at Amazon and Bed Bath & Beyond
Long hours in transit, particularly on flights around the holiday season, may not be kind on the skin. Battle back against the dry air with this hydration kit by e.l.f.  Includes a cleanser, balm, moisturizer and eye cream, all of which are appropriately sized to get through security. There's even a night cream for late flights.
Bucky 40 Blinks Eye Mask: available at Amazon and Bed Bath & Beyond
For those in need of some shut-eye when traveling, a light-blocking, comfortable sleep mask is essential. This model by Bucky is light, comfortable and securely fitting, drowning out any light so that you can easily get some sleep.  It's made in a range of colors and patterns while also coming in at a low price.
Emergen-C Immune Plus; available at Amazon
It doesn't hurt to have a little extra boost when traveling, as long hours can take a toll on your body. With the weather changing and so many people around, this immune supplement by Emergen-C can help you get through the day of travel, serving as a useful precautionary measure so that you can enjoy your destination.
Apple AirPods Pro: available at Amazon
These high-quality earbuds are perfect for travel, drowning out unnecessary background noise while allowing you to comfortably embrace your favorite songs and podcasts. The convenient charging case offers up to 24 hours of battery life, holding you over on a long day of travel. They resist sweat and water, which makes them also great for working out and spending time outdoors.
Hydro Flask Water Bottle: available at Amazon
Stay hydrated when traveling with a durable and insulated water bottle. This option by Hydro Flask comes in a few different sizes and colors, but most notably maintains the ideal temperature of your beverage, making it useful for whatever your drink of choice may be across the day. Just be sure it's empty before heading through security.
Samsonite Winfield 2 Hardside Luggage: available at Amazon
Everyone needs a durable piece of carry-on luggage that offers convenience and protection when traveling. This option by a trusted name in luggage is strong yet lightweight, with efficiently divided interior space as well as a TSA-approved locking system to keep contents secure. It also comes in a range of colors.
Anthony Marcusa is a writer for BestReviews. BestReviews is a product review company with a singular mission: to help simplify your purchasing decisions and save you time and money.
BestReviews spends thousands of hours researching, analyzing and testing products to recommend the best picks for most consumers. BestReviews and its newspaper partners may earn a commission if you purchase a product through one of our links.
Distributed by Tribune Content Agency, LLC.