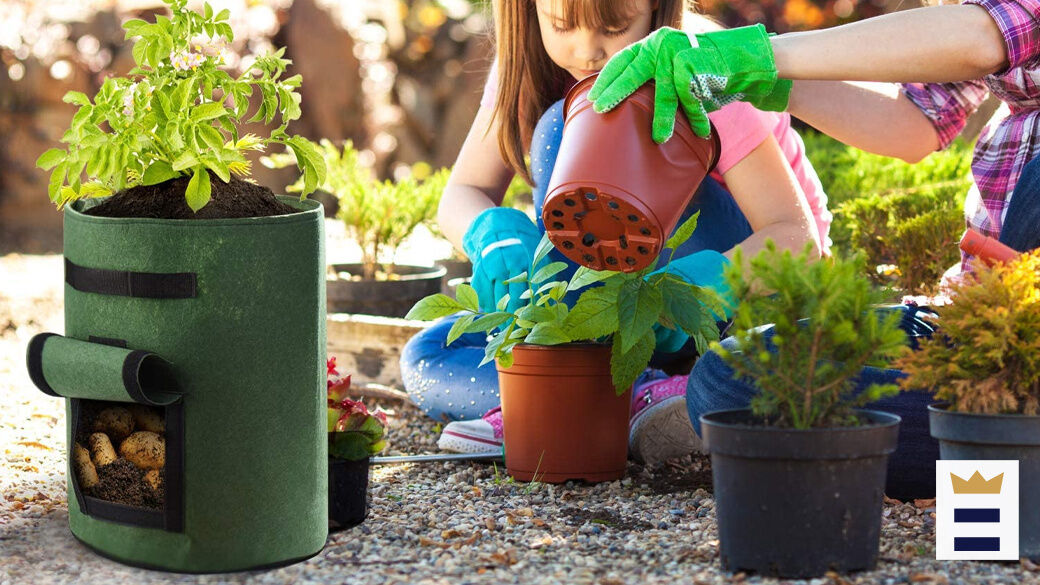 What is the best brand of potato grow bag?
If you are interested in growing potatoes, grow bags are one of the easiest ways to do it. Not only do they work well for small spaces, but they also air-prune roots and help maintain healthy growth. This makes them perfect for both new and experienced gardeners.
If you are looking for high-quality grow bags with harvest windows, the SCENGCLOS 10-Gallon Potato Grow Bags are an ideal option.
What to know before you buy a potato grow bag
What is a potato grow bag?
A potato grow bag is a fabric container used for growing potatoes or other root vegetables. They are typically made out of nonwoven fabric like felt.
The fabric allows the plants to breathe while also letting out water to prevent root rot. They are particularly good for growing potatoes because the sides can be rolled up or down as the plant grows.
Where should you put a potato grow bag?
Potatoes need full sun, so they should be placed where they will get enough light. This shouldn't be too much trouble, as most grow bags have handles and are fairly easy to move.
While grow bags can be used indoors, they let water and air flow freely from the bag, so be careful when watering. Because of this, they are most often used outdoors and are great for small patios.
How do you use a potato grow bag?
Growing potatoes in bags is different from growing them directly in the ground. While the potatoes and soil can be put into the grow bag all at once, it is not the best method. 
When using a potato grow bag, add soil to the pot and slowly roll up the sides as the potato plants grow. This will keep the plant growing and allow for the maximum harvest.
Potato grow bag features
Size of a potato grow bag
Size is a big factor when choosing a grow bag because it determines how many potatoes you can grow. For potatoes, you do not want a bag smaller than 5 gallons. On the other hand, grow bags larger than 15 gallons can be difficult to lift and move.
You can also use potato grow bags to harvest other root vegetables like carrots and onions. If you want to grow something different, plan accordingly.
Potato grow bag colors
Black and green are common options for potato grow bags, but they can come in any color. Any color is a good option, but be aware that dark bags attract heat and light bags stain quickly.
If you are using dark grow bags indoors or in a colder climate, you usually won't bump into any problems. If you are in a hot climate, though, a darker bag can make the soil too hot and can cause the plant to struggle.
Potato grow bags with harvest windows
Many potato grow bags come with a window for easy harvest and to check up on the plant's production. While they are common, these openings are not necessary and many general-use grow bags do not include them.
Having a window can be especially fun for kids to be able to see the fruit of their labor. On the other hand, poorly designed windows can make it difficult to keep the soil in its place. Sun exposure can damage the potatoes and cause them to turn green.
Potato grow bag cost 
Potato grow bags can cost as little as $3 each or as much as $10 per bag. The primary factor in how much each bag costs is the amount and quality of the fabric. So, small bags tend to cost less.
Potato grow bag FAQ
Could you use a container instead of a potato grow bag?
A. There are many alternatives to potato grow bags. Potatoes can be grown in the ground or in containers, but grow bags are easy because the sides can be rolled up or down to let the plant get enough light.
You can also use burlap sacks, laundry baskets and even garbage bags to grow potatoes. But, traditional grow bags come with many distinct advantages including strong handles, soil retention and harvest windows.
How many potatoes can you grow in a potato grow bag?
A. Depending on the size of your grow bag, you can grow from one to seven potato plants in your grow bag. You can also grow more potatoes if they are a small variety, like fingerlings.
The main variable in how many potato plants you can grow is the size of your grow bag. In 10-gallon grow bags, it is common to start with three to five starter potato pieces.
Which potato grow bag should I get?
Best of the best potato grow bag
SCENGCLOS 10-Gallon Potato Grow Bags: available at Amazon
Our take: These are 10-gallon bags and come in a six-pack, making them perfect for growing a large crop of tomatoes.
What we like: These bags have two hook-and-loop closure windows, making it easy to watch the plants grow and to harvest your potatoes.
What we dislike: Because the windows are clear plastic, it may need to be covered to keep the potatoes from turning green due to sun exposure.
Best bang for your buck potato grow bag
Gardzen 10-Gallon Potato Grow Bag: available at Amazon
Our take: This grow bag, complete with a harvest window, is a budget-friendly option that doesn't compromise and quality.
What we like: The classic black fabric and sturdy handles make this a very traditional grow bag that is easy to move and fold.
What we dislike: The dark color attracts the sun and heats up quickly.
Honorable mention potato grow bag
Delxo 7-Gallon Potato Grow Bags: available at Amazon
Our take: This smaller grow bag is perfect for people with less space, especially patios.
What we like: The fabric is breathable and the straps are enforced, making this grow bag durable and good for soil aeration.
What we dislike: At 7 gallons, these bags will not grow as many potatoes as many of the other options.
Jackalyn Beck is a writer for BestReviews. BestReviews is a product review company with a singular mission: to help simplify your purchasing decisions and save you time and money.
BestReviews spends thousands of hours researching, analyzing and testing products to recommend the best picks for most consumers. BestReviews and its newspaper partners may earn a commission if you purchase a product through one of our links.
Distributed by Tribune Content Agency, LLC.