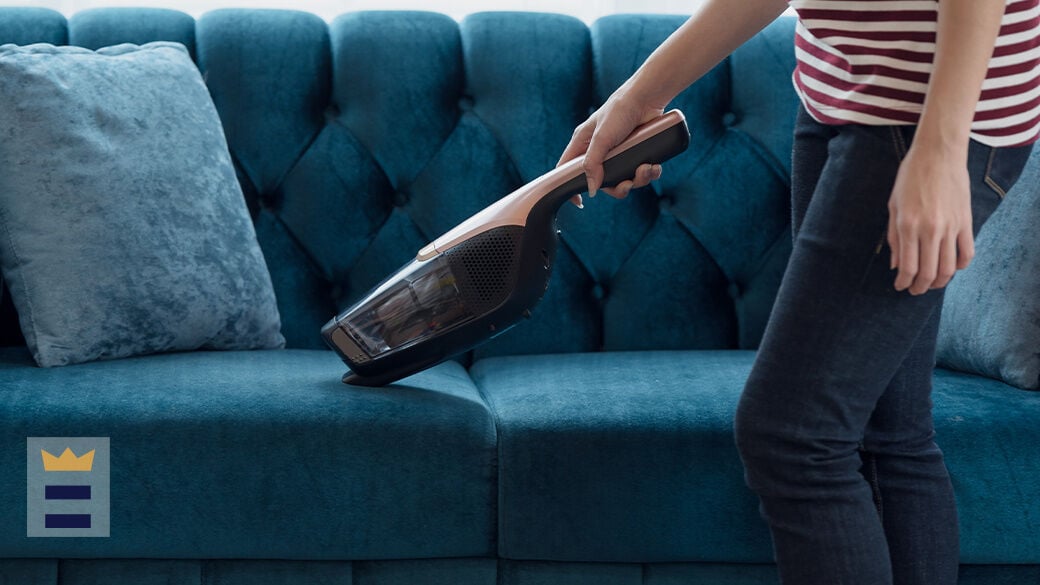 Best vacuums for the money
Depending on your lifestyle, living space, and number of cohabitants (furry or otherwise!), your home may not require a heavy-duty clean with a heavy-duty vacuum cleaner.  But that doesn't mean dust bunnies are welcome. You can still find a powerful and effective vacuum that will reach those tricky spots and suck up those hair balls and dust bunnies without too much damage to your wallet.  
In this guide, we discuss how you can save money without compromising on model type and suction power to give you the best vacuum for your money and lifestyle. Based on power and convenience, the Shark Navigator Light Vacuum is truly the best value vacuum. 
What to know before you buy a vacuum for the money 
While being mindful of the price tag, the model and weight of your budget vacuum may still be important considerations. You may be using your vacuum for the rare kitchen clean-up or daily (or maybe hourly) sweep for pet hair, and it should be able to handle it all. 
Model type
There are various models of vacuum cleaners on the market to fit your life habits and living space. For example, if you live in a smaller space, you might prefer a lightweight cordless model that you can use to reach awkward or tight spaces rather than lugging the canister of a traditional model behind you. Or if you have pets, you may want the reliability, suction power and efficiency of a canister vacuum.   
Upright vacuum
The traditional upright vacuum has not changed significantly since its debut.  As a result, you can typically get a high-performance upright vacuum for a more reasonable price.  These powerful cleaners tend to have the best suction power and work on a variety of surfaces from carpet to hardwood floors. With fewer attachments than other models, this is a relatively low-maintenance vacuum that can certainly get the job done.
Canister vacuum
Best suited for hardwood or other bare surfaces, canister vacuums often come with a variety of attachments, making them an equally great choice for softer surfaces as well.  Despite having to pull the canister around as you go, the long, attached hose results in maneuverability that is perfect for reaching tricky or elevated places like blinds, shelves or overhead fixtures. Canister vacuums suck up dust and dirt into its — you guessed it — canister. This results in a bit of a tricky situation when it comes to cleaning your vacuum. It is best to do this in an empty trash can outside of your living space, as dust has a nasty habit of escaping. 
Handheld vacuum
Handheld vacuums are perfect for quick and easy cleaning in smaller or hard-to -reach areas. In both corded and cordless options, these handy cleaners can be carried with you as you go. You will want to consider the length of the cord or battery life, the size of the dust container for less frequent changing, and the overall weight of the vacuum — you'd be surprised by the difference an additional couple of pounds can have. While these models are no replacement for a full-size, more traditional model, they are perfect for a quick clean. 
Emptying your vacuum
Vacuums capture dust, dirt and hair either in a bag, a bagless canister or dust container.  While it may not make a difference to you when cleaning your space, it will certainly make a difference when it comes to cleaning out your vacuum. Vacuum cleaners with bags can be used until the bag is full. Most models will indicate via light or line when the bag needs to be replaced. The major pro of having a bagged vacuum is the ease of cleaning it. Simply remove, discard and replace the bag with a new one. However, the downside is that these models come with the added expense of buying replacement bags. 
Bagless vacuums, like the canister models discussed above, capture and retain dust and dirt in a built-in container.  While not a difficult task to empty the canister, it is very likely, if not guaranteed, that some of the dust and allergens will be released back into the air.  
Vacuum for the money features
Corded vs. cordless
Corded and cordless vacuums each have pros and cons. Corded vacuums don't require any charging and are ready to clean when you need them. However, you are limited in where you can take them. Cordless vacuums, on the other hand, are more easily maneuvered and can be carried to whichever space needs attention. They do, however, require recharging, and some require recharging rather frequently. 
Noise
All vacuums make noise. However, if you or your cohabitants are particularly noise averse, there are options with reduced sound output.  Keep an eye on a vacuum's decibel (dB) level, which is usually included in the product specifications and correlates to the noise level. For a quiet vacuum, look for a decibel level between 60 and 65.
Weight
The weight of the vacuum determines how easy it is to use and for how long you will want/be able to use it. Upright and canister vacuums are usually heavier than handheld vacuums, but they often have increased suction to make up for it. If you are buying a vacuum for cleaning stairs or ceiling fixtures, select a lightweight model to avoid muscle fatigue and strain.  
Vacuum cost 
Vacuums can range from $40-$400. For this review, we have focused on vacuums that have adequate suction power and fewer bells and whistles to keep your budget in mind.  These basic but effective cleaners range from $40-$120. 
Vacuum FAQ
What's the best way to clean a washable filter?
A. It is always best to check the manual that comes with your vacuum, but generally, it is best to rinse with lukewarm water. After rinsing all the dust and debris out of the filter, allow it to thoroughly dry for about 24 hours. The filter must be completely dry before being placed back into the vacuum cleaner. 
What am I missing out on by spending less on my vacuum?
A. Cheaper models can certainly get the job done and tend to have the same features and functions as expensive vacuums, just on a smaller scale. It is unlikely that a cheaper vacuum will come with as many accessories, however, making it less versatile and unable to tackle every job. Focus on buying a budget vacuum cleaner tailored to your specific needs.
Which vacuum for the money should you get?
Best of the best vacuum for the money
Shark Navigator Light Vacuum: available at Amazon
Our take: As expected from a Shark, this lightweight upright model has powerful suction to tackle both hardwood and carpeted floors.  
What we like: It has a large capacity bagless dust cup for easy cleaning, a 25-foot power cord to maximize cleaning space, and at 10.6 pounds, is very lightweight and easy to maneuver. 
What we dislike: Some customers report it can be difficult to push and pull this model over thicker carpets; others found it struggled to suction up excessive pet hair.
Best bang for the buck vacuum for the money
BISSELL Zing Vacuum: available at Amazon
Our take: A fantastic budget option from a trusted industry brand, this small but mighty canister cleaner features powerful suction that is great for bare floors, rugs and above-floor cleaning.
What we like: The easy-to-remove bag makes changing bags quick and easy, and included tools are great for harder-to -reach places. This model also features a large, 2.5 liter-capacity bag.
What we dislike: Some customers report that the cord was not long enough for their spaces and required an extension cord to use effectively.
Honorable mention vacuum for the money
Black+Decker Dustbuster Handheld Vacuum: available at Amazon
Our take: Perfect lightweight model that can be used for a long time without needing to be charged or emptied. 
What we like: This model has an increased bowl capacity, washable bowl and filter, and it's also cordless.
What we dislike: Some customers say the vacuum needs to be recharged between each use, which can be bothersome if you forget to do so and then need an immediate clean-up.
Daisy Kelly is a writer for BestReviews. BestReviews is a product review company with a singular mission: to help simplify your purchasing decisions and save you time and money.
BestReviews spends thousands of hours researching, analyzing and testing products to recommend the best picks for most consumers. BestReviews and its newspaper partners may earn a commission if you purchase a product through one of our links.
Distributed by Tribune Content Agency, LLC.