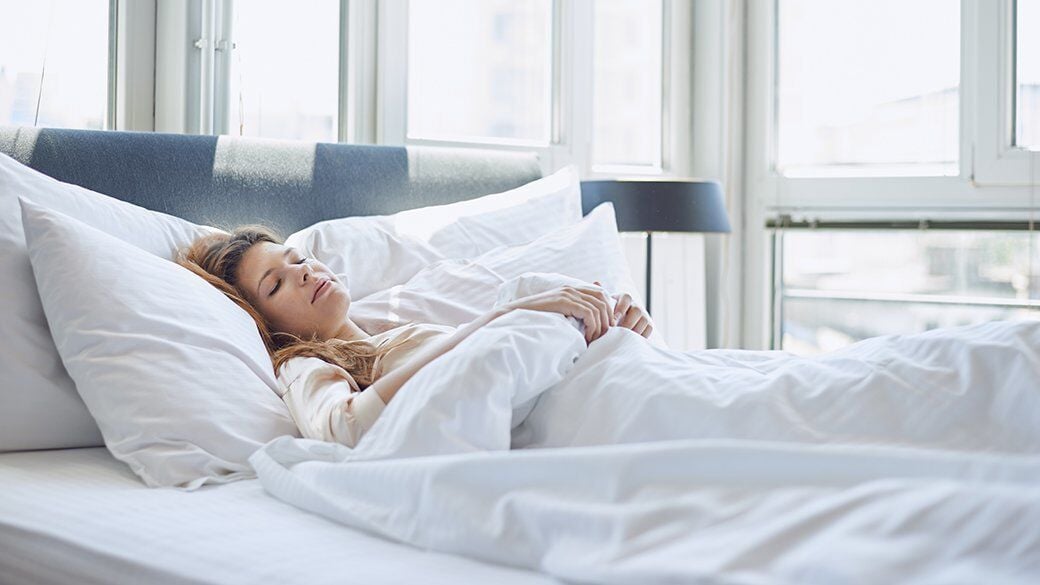 According to many people, staying cool at night is their greatest obstacle to a good night's sleep. Fortunately, there are a few blankets on the market geared toward hot sleepers.
Blankets for hot sleepers aren't a specific product; rather, they're blankets with features that aid in temperature regulation. Some blankets are made with cool-to-the-touch materials, while others are constructed with breathable materials that promote airflow around the body.
We're covering popular blankets for hot sleepers in our buying guide, including a few recommendations. Our top choice, the ZonLi Cooling Bamboo Weighted Blanket, keeps sleepers cool, dry, and cozy.
What to know before you buy a blanket for hot sleepers 
Additional cooling options
A blanket to keep you cool is just one of many solutions to help hot sleepers stay comfortable.
Many hot sleepers forego a top sheet in their bedding setup to eliminate excess layers. Others utilize additional cooling accessories such as cooling mattress toppers or pillows. Another way to maximize the benefits of a blanket for hot sleepers is with a ceiling or oscillating fan to boost air circulation in the room.
Size
Blankets for hot sleepers are available in standard bedding sizes from twin to California king. Some blankets are available in odd sizes chosen by the manufacturer. For these, consumers must take measurements into consideration to choose a blanket size that suits them.
Bulkiness
Many people are under the impression that the bulkier the blanket, the warmer it is, and that's true for some blankets. However, there are many bulky blankets constructed with breathable materials, like cotton or bamboo. These blankets help regulate temperature without detracting from the coziness of a fluffy blanket.
Materials
Cotton: Cotton is a breathable material, providing airflow around the body. Not only does it allow body heat to escape, it lets cooler air penetrate the material. Cotton is also soft and non-irritating, making it a favorite among hot sleepers with sensitive skin.
Polyester: Polyester is thought of as less breathable than cotton, but it can actually be constructed into a cooling or cool-to-the-touch fabric. It's also significantly lighter than cotton, making it popular for hot sleepers who prefer non-bulky blankets.
Bamboo: Bamboo is growing in popularity in blankets. In addition to being lightweight and breathable, it has natural wick-away properties to sweep away sweat from the body. Bamboo is also hypoallergenic and antibacterial, so it's a top choice among sleepers with allergies.
Glass beads: Some weighted blankets are designed to offer cooling benefits. They're constructed with cotton, polyester or bamboo and are filled with tiny glass beads. Because glass doesn't absorb heat, these blankets are far less insulated and allow body heat to escape.
Blankets for hot sleepers cost
Lightweight cotton blankets cost $25-$50, while blankets made with a blend of higher-end materials cost $60-$150. Blankets with benefits other than cooling, such as weighted blankets, run $50-$200.
Blankets for hot sleepers FAQ
Q. Should my partner and I share a blanket?
A. If you share a blanket with someone, it will trap your body heat as well as theirs. This is somewhat counterproductive, so it makes more sense to have your own blanket.
Q. Can I use the same blanket for hot sleepers year-round?
A. Yes, and many blankets for hot sleepers are advertised as year-round bedding. However, some sleepers prefer to pare down their bedding and switch to lightweight, less bulky blankets during warmer months.
Which blanket for hot sleepers should I get?
Best of the best: ZonLi Cooling Bamboo Weighted Blanket
Our take: This blanket is made with bamboo viscose, which is effective at keeping sleepers cool and dry.
What we like: Constructed with breathable, hypoallergenic bamboo. Has a thin layer of tiny glass beads to gently hug the body. Comfortable enough to use without sheets. Available in six weight options from seven to 25 pounds.
What we dislike: Some reports that the weighted design counteracts the cooling effects.
Best bang for your buck: Elegear Cooling Throw Blanket
Our take: Uses Japanese cooling technology to absorb heat and redirect cooler air toward the body.
What we like: Cool-to-the-touch material. Made with a blend of mica nylon, cotton and polyester which gives the blanket an airy, lightweight feel. Blanket is not bulky and fits easily inside a washing machine. Available in three sizes.
What we dislike: Cooling effect isn't as dramatic as some sleepers had hoped.
Honorable mention: Utopia Bedding Soft Breathable Thermal Blanket
Our take: A premium all-cotton blanket with a loose weave for maximum breathability.
What we like: Oversized design to accommodate shrinking. Made with all-natural cotton with no harmful chemicals or synthetic materials. Gets progressively softer with washing. Ideal for year-round use.
What we dislike: Not as soft as expected. Prone to shrinking, and may not fit beds well thereafter.
Sian Babish is a writer for BestReviews. BestReviews is a product review company with a singular mission: to help simplify your purchasing decisions and save you time and money.
BestReviews spends thousands of hours researching, analyzing and testing products to recommend the best picks for most consumers. BestReviews and its newspaper partners may earn a commission if you purchase a product through one of our links.
Distributed by Tribune Content Agency, LLC.