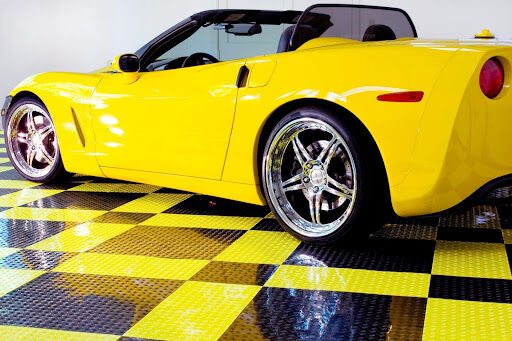 Many of today's garages store bicycles, tools, lawn equipment and sports gear alongside cars. A fresh, clean floor surface of rubber tiles can do wonders to transform the space and make an otherwise clutter-filled garage look clean, orderly and organized.
You'll find an array of these tiles in different sizes, many in 12-inch, 18-inch and 20-inch sizes in colors, textures and with interlocking tabs. They're installed laid down loose on a clean surface and sold in packages by the square foot.
A flooring installer or handyman will clean and prepare the surface and install the tiles in a 15- by-20-foot area in a typical two-car garage for $1,518, which includes labor and material. A handy homeowner can buy the tiles needed to cover the floor for $1,200, do the work and save 21%.
The real work involves removing everything off the floor and out of the garage. When the space is empty, sweep and vacuum the entire floor especially around the doors and where the floor meets the walls and dirt accumulates. Then wash the floor with a mild soap and let it dry completely. If there are any surface cracks larger than a half-inch wide, patch them with a floor resurfacing material and allow it to dry.
More than likely, you'll spend more time getting the garage empty and the floor prepped than actually installing the tiles.
While you're planning the job, consider having a garage sale, since there's no better time to get rid of everything you didn't know you had in there.
To find more DIY project costs and to post comments and questions, visit www.diyornot.com and m.diyornot.com on smartphones.
Pro Cost — DIY Cost — Pro time — DIY Time — DIY Savings — Percent Saved
$1,518 — $1,200 — 5.4 — 7.5 — $318 — 21%